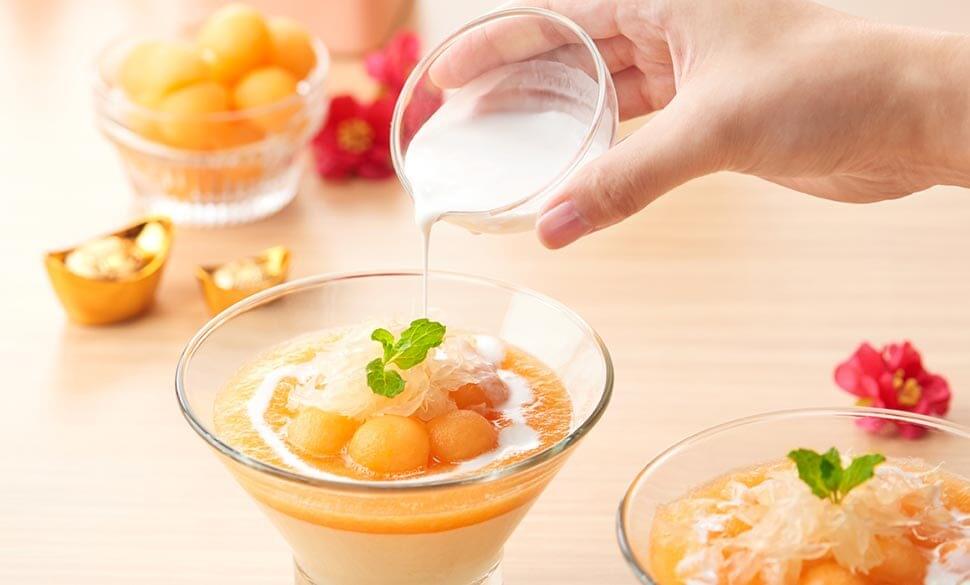 Sweet Bliss Melon and Pomelo Pudding
Ingredients
FairPrice Natural Coconut Cream

1⁄2 cup

Australian Rock Melon

1

Pasar Malaysia Ipoh Pomelo (peeled and broken into small pulp pieces)

250 g

Pudding

Light Sour Cream

400 g

Lemon Juice

80 g

Fresh Milk

600 ml

Gelatine Sheets

12 g

Sugar

200 g
How to cook
Step 1
Pour milk into pot, add sugar, and bring to near boil. Soak gelatine sheets with ice water to soften.
Step 2
Turn off heat, add in softened gelatine sheets to dissolve, and set aside to cool.
Step 3
In another bowl, add in sour cream and lemon juice. Mix well and set aside.
Step 4
While waiting, remove the melon skin, scoop out melon balls and blend the rest into a puree.
Step 5
Add cooled milk mixture into the bowl with the sour cream and lemon juice mixture, and mix well.
Step 6
Pour into desired cup and put in chiller to set at least 4 hours.
Step 7
Pour melon puree over the pudding, and add in melon balls and pomelo pieces.
Step 8
Drizzle a spoonful of coconut cream over the finished dessert and garnish with mint leaves.