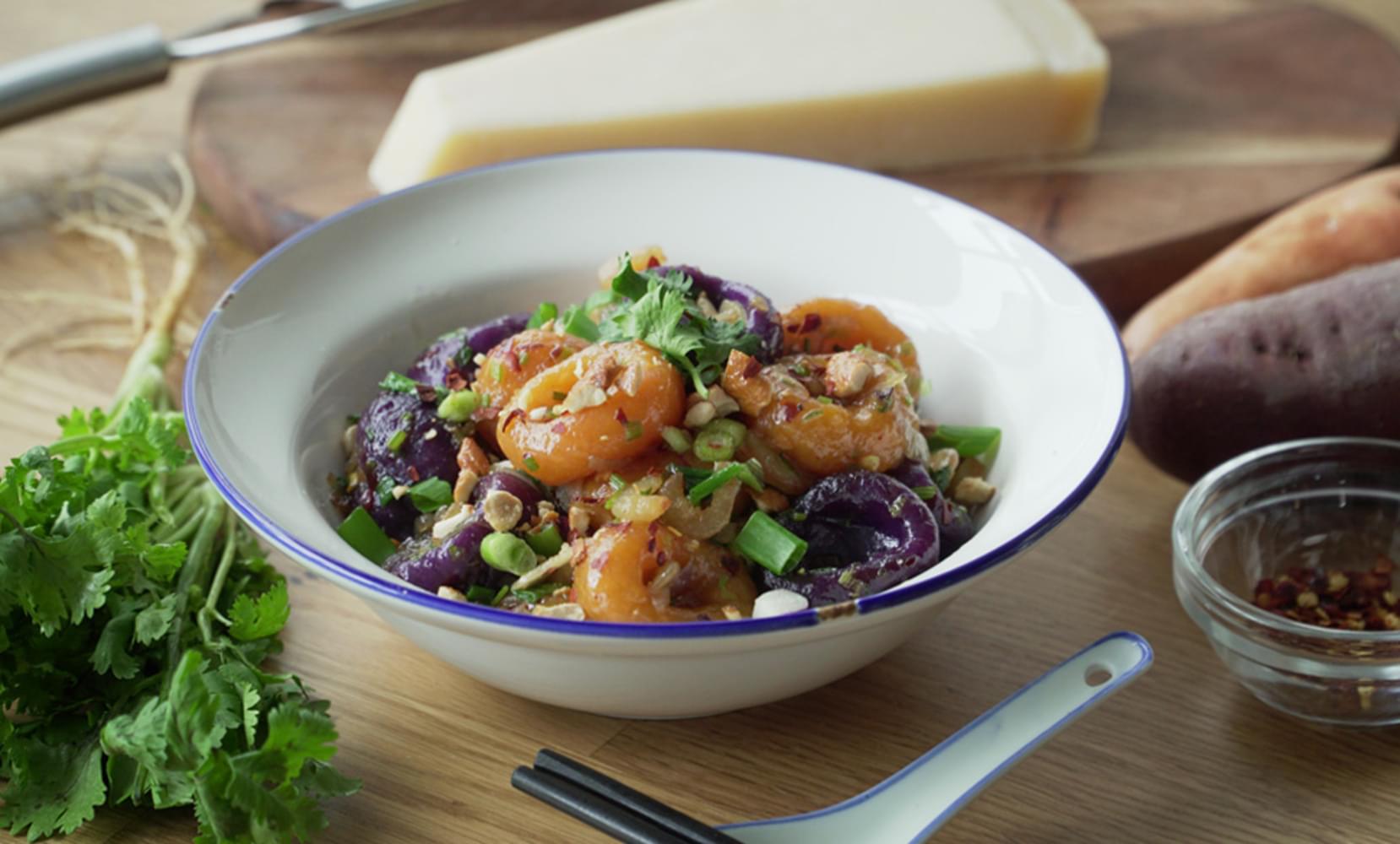 Sweet Potato Abacus Seed Aglio Olio
Ingredients
Sweet Potato

300g each, for orange and purple variants

600 g

Tapioca Flour

2 portions

300 g

Garlic

sliced

5 cloves

Shallots

sliced

5

Coriander

minced

1 spring

Red Chilli Flakes

1 tsp

Dried Shrimp

soaked

40 g

Grated Parmigiano Cheese

1⁄2 cup

Crushed Cashew Nuts

for garnish

Extra Virgin Olive Oil

1⁄2 cup

Fish Sauce

to taste

Water

boiling
How to cook
Prepare sweet potato
Boiled cubed sweet potatoes separately.
Mash sweet potatoes with a fork.
Add 150g tapioca flour each, to both purple and orange mashed sweet potatoes.
Mix in just enough boiling water till the dough comes together.
Knead dough until smooth and divide into smaller portions.
Roll dough into a long strip and cut each portion into ½-inch pieces.
Shape each piece into a ball and make a dent in the middle.
Repeat until all the dough is used up.
Place abacus seeds in boiling water until floating to the top.
Place abacus seeds in cold water.
Drain water and add a little olive oil if necessary.
Start cooking
Combine shallot and olive oil in a cold skillet over medium heat.
Add in garlic slices once the shallots become fragrant and slightly caramelized.
Cook and stir until garlic is golden-brown, for about another 5 minutes.
Add in minced coriander stalks and dried shrimp. Cook for another 3 minutes.
Add in the abacus seeds, fish sauce, chilli flakes and grated cheese.
Heat through until well combined.
Serve immediately topped with crushed cashew nuts.
Tried this recipe? Rate it!