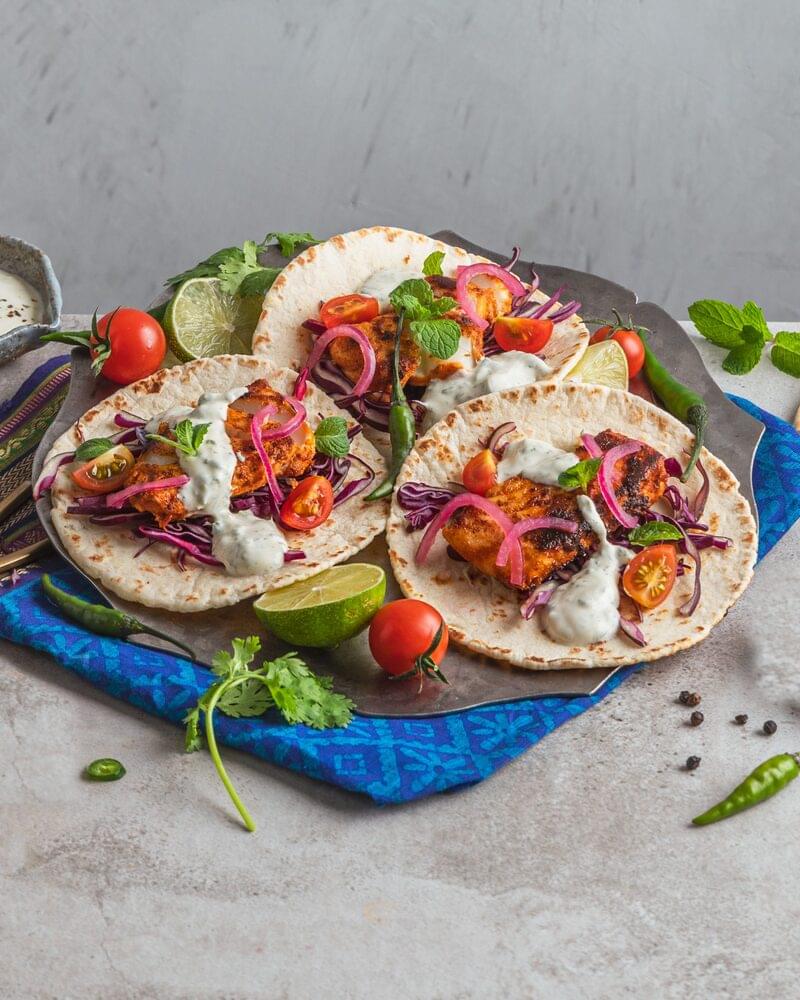 Ingredients
Chapati

1 pack

Red Cabbage

thinly sliced

75 g

For Tandoori Fish

White Fish Fillet

cut into 4cm cubes

350 g

Smoked Paprika

2 tsp

Greek Yoghurt

1⁄4 cup

Tandoori Powder

1 tbsp

Chilli Powder

1 tsp

Garlic

grated

1

Lime

juice

2 tsp

Salt

1⁄2 tsp

Pepper

to taste

For Quick Pickled Onions

Red Onion

thinly sliced

1

Lemon

juice

1

Salt

1 pinch

For Coriander - Mint Raita

Greek Yoghurt

1 cup

Garlic

grated

1

Lime

juiced & zested

1

Coriander Leaves

finely chopped

1 stalk

Mint Leaves

finely chopped

1 spring

Green Chilli

deseeded, finely diced

1

Cumin Powder

1 tsp

Salt

to taste

Pepper

to taste

For Garnish

Fresh Mint

or coriander

Cherry Tomatoes

quartered
How to cook
Prepare the tandoori fish
Combine everything in a bowl, except for the fish, and mix well.
Add fish cubes in and coat them well.
Set aside to marinate for at least 30 mins.
Prepare the quick pickled onions
Combine all the ingredients into a bowl and massage the lemon & salt into the onion slices thoroughly.
Set aside for 10 mins until they turn pinkish.
Prepare the coriander raita
Chop everything as finely as you can and combine them well in a bowl. Salt & pepper to taste.
Let it sit in the fridge to allow the flavours to infuse, until ready to use.
Cook the tandoori fish
Heat up a non-stick frying pan over med-high heat and add in cooking oil.
Shake off excess marinate and pan fry the fish for 2 mins on each side.
Flip only when the bottom edges start turning brown. Set aside.
Assemble and serve
Heat chapati as per package instructions.
Start with a base of red cabbage in the center of the chapatti.
Followed by chunks of the tandoori fish that has been lightly broken up and some raita on top.
Garnish with pickled onions, coriander & cherry tomatoes!
Tried this recipe? Rate it!