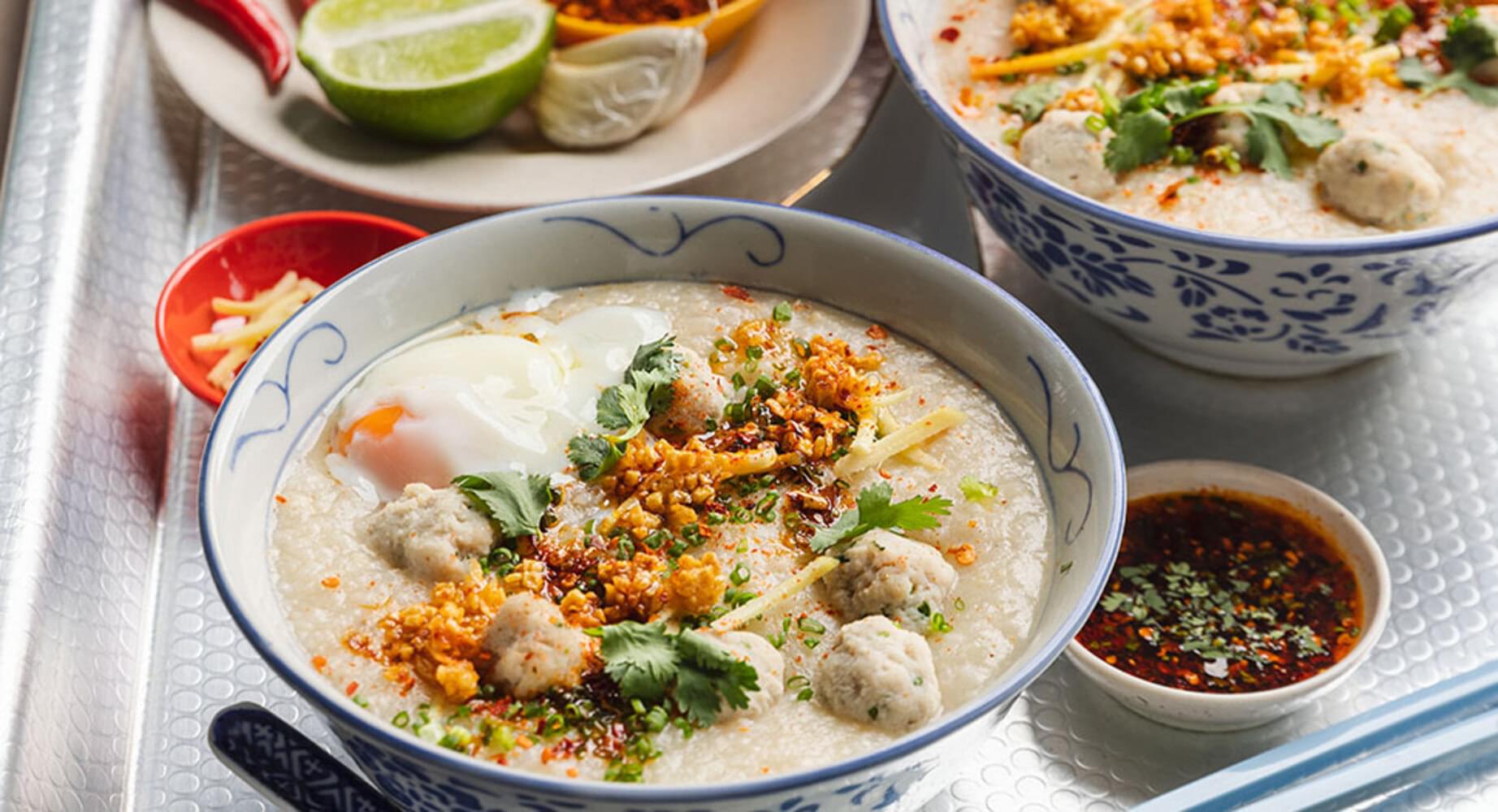 Ingredients
Porridge

Chicken Stock

or any stock you prefer

4 1⁄2 cups

Rice

cooked

3 cups

Ginger

4 slices

Spring Onion

chopped

1

Garlic

sliced

3 cloves

Chicken Powder

2 tsp

Meatballs

Minced Pork

200 g

Corn Flour

2 tbsp

Fish Sauce

1 tsp

Sesame Oil

1 tsp

White Pepper

1 tsp

Sugar

1⁄2 tsp
Garnish (optional)

Coriander

finely chopped

1 stalk

Eggs

soft-boiled, optional

4

Fish Sauce

to taste

1 tbsp

Soy Sauce

to taste

1 tbsp

Ginger

sliced thinly

Fried Shallots

Chilli Oil

Chili Flakes

White Pepper

to taste
How to cook
Prepare the meatballs
Combine the minced pork, corn flour, fish sauce, sesame oil, white pepper and sugar until it becomes sticky.
Let it rest for 5 minutes, then shape it into thumb-sized meatballs.
Start cooking
Combine the chicken stock, rice, ginger, spring onion, garlic and chicken powder in a rice-cooker.
Leave the lid slightly ajar to let some steam escape to prevent overflowing.
Cook for 15-20 minutes and stir occasionally to prevent sticking.
At this point, you can use a hand whisk or fork to whisk the rice if you prefer a softer consistency.
Once the porridge is cooked, stir ½ cup of water or stock and mix well.
Drop the meatballs one by one into the rice-cooker and cook according to instructions.
Cover with a lid and let it cook for 5 minutes.
Turn off the heat to prevent burning.
Stir the seasoning into the porridge and adjust to taste.
Serve warm; top with a soft-boiled egg and garnish (optional).
Tried this recipe? Rate it!