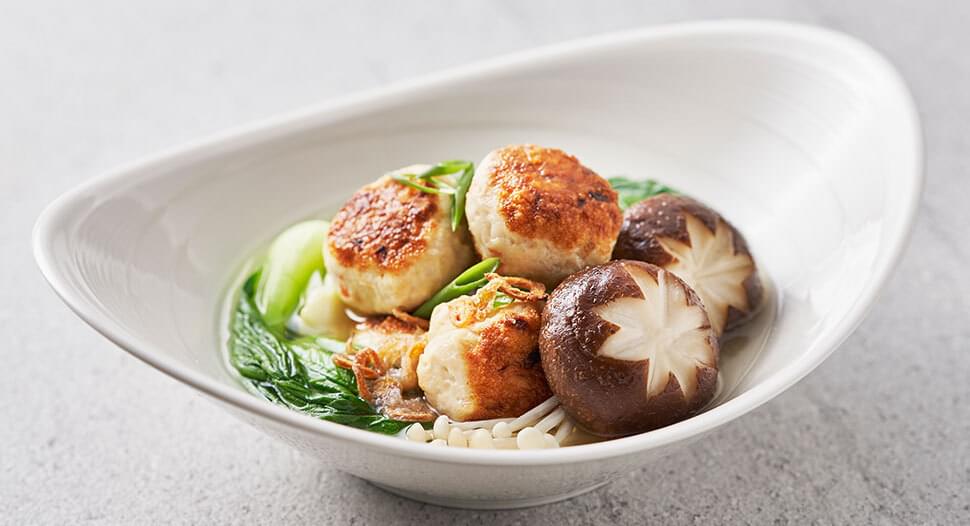 Tsukune in Miso Happy Broth
Ingredients
Meatballs

Chicken, minced

500 g

Water Chestnuts, peeled and finely diced

4

Yellow Onion, finely diced

1⁄2

Ginger, minced

1 tbsp

Garlic, minced

1 clove

Carrot, finely diced

1⁄2

Potato Starch

1 tbsp

White Pepper

1⁄2 tsp

Light Soy Sauce

2 tbsp

Sesame Oil

1 tsp

Vegetables

Bok Choy

100 g

Enoki Mushrooms

1 bunch

Fresh Shiitake Mushrooms

3

Miso Broth

Shallots, finely sliced and fried

6

Marumo Aoki Miso White Soybean Paste (No Additives)

3 tbsp

Bonito Flakes

30 g

Kombu (Japanese Kelp) (approx. 5x15cm)

1 piece

boiling water

750 ml

Thai Spring Onions, finely sliced
How to cook
Step 1
Mix ingredients for meatballs thoroughly. Divide the meat mixture into 16 portions and form meatballs, flattening slightly.
Step 2
Sear till brown and set aside.
Step 3
Add kombu to boiling water and turn off the heat. Steep for 20 mins and remove the kombu.
Step 4
Add bonito flakes and simmer stock for 30 secs, let cool for 5 mins and strain.
Step 5
Add miso and mix broth thoroughly over low heat.
Step 6
Gently simmer the vegetables and mushrooms in miso broth for 15 minutes over low heat, then cook the meatballs for 5 mins.
Step 7
Garnish with fried shallots, sesame oil and spring onions. Itadakimasu!