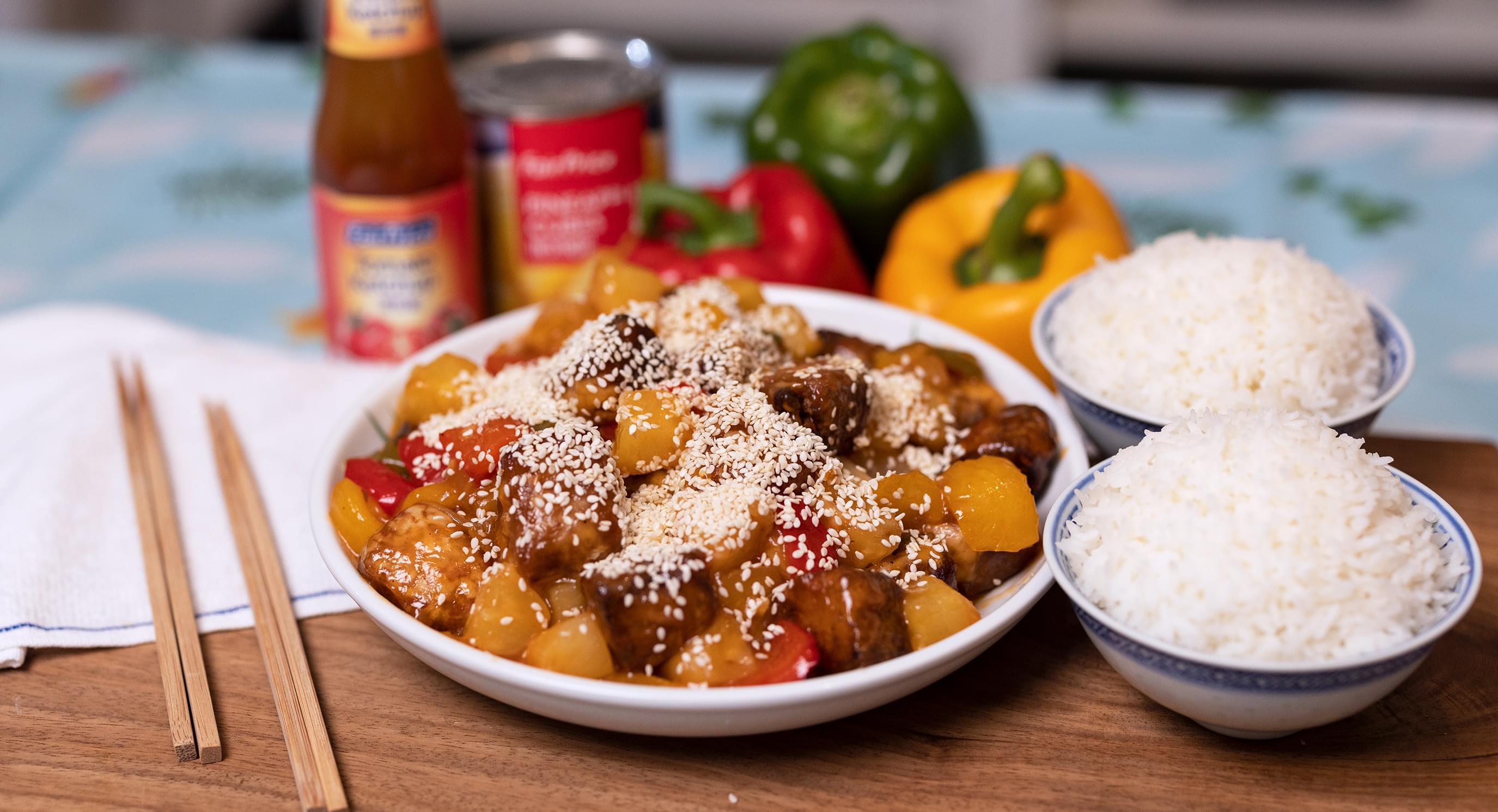 Vegetarian Sweet & Sour Pork
Ingredients
Tempeh (cubed)

120 g

Garlic Powder (or freshly minced garlic)

1 tsp

FairPrice Light Soy Sauce

1 1⁄2 tbsp
Wet Mixture

Egg (whisked)

1

Cold Water

1⁄2 cup

Corn Flour

3 tbsp

FairPrice Plain Flour

2 tbsp

Baking Powder

1 tsp

FairPrice Fine Salt

2 tsp

Dry Mixture

Potato Starch (add more if needed to fully coat)

3 cups

Sweet and Sour Ketchup Sauce

FairPrice Tomato Ketchup

1⁄3 cup

FairPrice Light Soy Sauce

1 tbsp

Distilled White Vinegar

1⁄3 cup

Pineapple Juice or Syrup (from a pack or can of pineapples)

1⁄2 cup

Corn Flour

1 1⁄2 tbsp

Water (room temperature)

1⁄3 cup

Ground black pepper

1 dash

White Sugar (adjust according to desired sweetness)

1⁄4 cup
Stir-fry

Onion (medium-sized, quartered)

1

Garlic (minced)

1 tsp

Ginger (minced)

1 tsp

Red Capsicum (seeded and sliced into squares)

1

Green Capsicum (seeded and sliced into squares)

1

Yellow Capsicum (seeded and sliced into squares)

1

Pineapples (cut or pre-cut into chunks)

1 can
How to cook
Prepare wet mixture for the tempeh.
Mix the ingredients for the wet mixture and set aside.
Marinate tempeh and prepare sweet and sour ketchup sauce.
Marinate the cubed tempeh with the garlic powder and light soy sauce. Leave it for 10 mins while you prepare the other ingredients.
Add all the ingredients for the "sweet and sour" ketchup sauce into a bowl. Mix well and set aside.
Marinate and coat the tempeh in batter.
Coat the marinated cubed tempeh with the wet mixture, and then the dry mixture. Deep fry until golden brown and strain excess oil on several kitchen towels.
Prepare the stir-fry.
Heat the oil over high heat. Once hot, sauté the onion, garlic, and ginger for 1-2 mins until the onions are cooked. Add in the capsicums and cook for 2 mins.
Add in the pineapple chunks and cook for 1 min.
Lower the heat to medium. Give the sweet and sour ketchup sauce a good mix again since the starch tends to sit at the bottom.
Pour in the sauce to the pan once it reaches medium heat.
Mix well and then leave the sauce to boil for 2 to 3 mins. Continuously mix until the sauce thickens.
Add the deep-fried tempeh back into the stir-fry.
Once the sauce has thickened, add in the fried tempeh and immediately mix well in the sauce. Do this quickly so the cubed tempeh can remain crisp.
Serve warm on the side with some white rice!