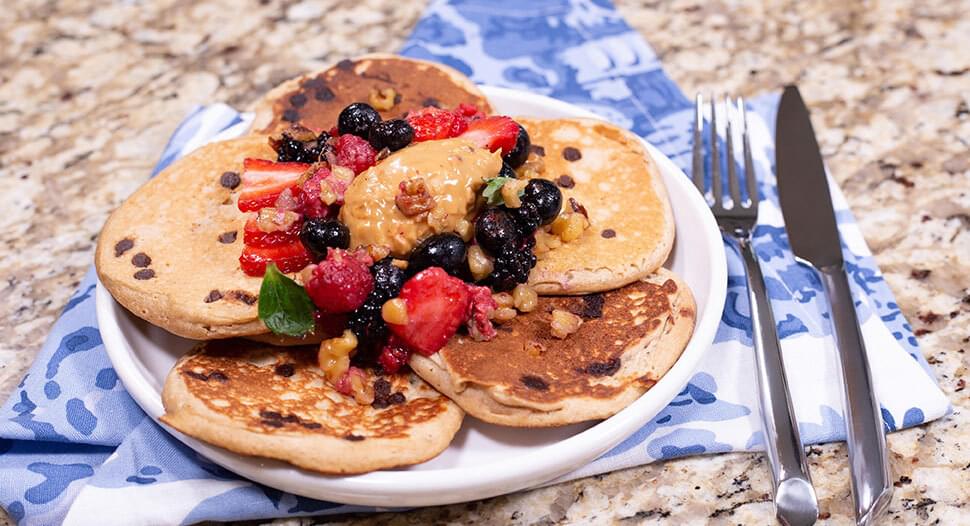 Whole Wheat Dairy-free Banana Pancakes
Ingredients
| | |
| --- | --- |
| 100% whole wheat flour | 1 cup |
| medium Ripe bananas, mashed (about 1 cup mashed banana) | 2 |
| Egg (lightly whisked) | 1 |
| Baking powder | 2 tsp |
| Cinnamon | 1⁄2 tbsp |
| Salt | 1⁄2 tsp |
| Nutmeg | 1⁄2 tsp |
| Vanilla extract | 1 tsp |
| Unsweetened almond milk | 1⁄2 cup |
| Mini carobs or mini chocolate chips | 1⁄4 cup |
How to cook
Step 1
In a large bowl (or mixer), whisk together the flour, cinnamon, nutmeg, salt and baking powder.
Step 2
In a separate large bowl, mix together the mashed banana, egg, vanilla and almond milk until smooth.
Step 3
Add in the first bowl of dry ingredients to this second bowl of wet ingredients and mix lightly until just combined.
Step 4
NOTE: If the batter looks too thick, add just a splash more of the almond milk.
Step 5
Over medium heat, lightly coat a large nonstick skillet with coconut oil.
Step 6
Pour batter using a 1/4 cup onto the skillet and spread out lightly with a spoon. Add 8 carobs or chocolate chips to each pancake round batter.
Step 7
Cook around 2 minutes (until bubbles appear on top).
Step 8
Flip the pancake cakes and cook around another 1.5 minutes until golden brown.
Step 9
Lower the skillet slightly and wipe skillet clean with each pancake made. Repeat with more coconut oil until you use up all of the remaining batter.
Step 10
Makes 8 delicious pancakes. You can add nut butter to the top or fruit.