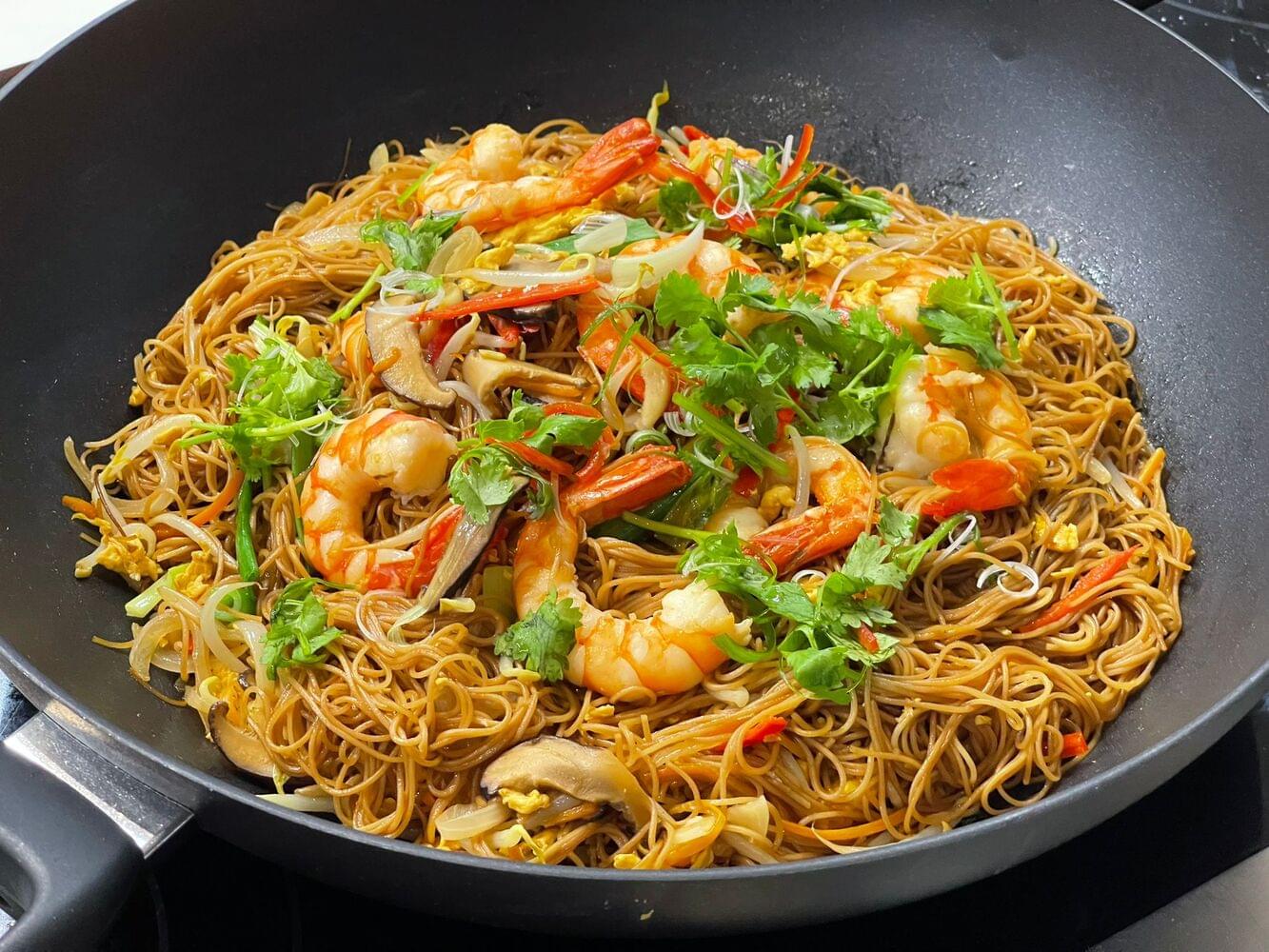 Wok-fried Mee Sua with Tiger Prawns
Ingredients
Mee Sua

300 g

Tiger Prawns

10

Fresh Eggs (beaten)

(beaten)

2

Bean Sprouts (washed & drained)

(washed & drained)

100 g

Carrot (chopped)

(chopped)

50 g

Chinese Dried Mushrooms (pre-soaked, sliced)

(pre-soaked, sliced)

50 g

Garlic (chopped)

(chopped)

2

Onion (sliced)

(sliced)

1⁄2

Cooking Oil

3 tbsp

Spring Onion (sliced)

(sliced)

10 g

Red Chilli (sliced)

(sliced)

1

For Seasoning

GOLDEN CHEF Premium Oyster Sauce With Dried Scallop

2 tbsp

GOLDEN CHEF Premium Dark Soy Sauce

2 tsp

GOLDEN CHEF 100% Pure Sesame Oil

1 tbsp

Chicken Stock

200 g

Pepper

1 tbsp
How to cook
Step 1
Fry the mee sua over medium heat until golden. Place the fried mee sua in a bowl and pour boiling water over it. Let it soften for 5 minutes before draining and setting it aside.
Step 2
Heat up oil in a wok pan and fry the prawns until cooked. Remove and set aside.
Step 3
In the same wok pan, lightly scramble the egg. Remove and set aside.
Step 4
Using the same wok pan, stir fry the garlic, onions, mushrooms and carrots until soft. Add the bean sprouts and stir fry for 1 minute.
Step 5
Add the fried mee sua and toss evenly. Add the seasoning ingredients and continue to stir fry over high heat.
Step 6
Add the scrambled egg and fold evenly. Simmer for 3 minutes.
Step 7
Add the cooked prawns, spring onions and red chilli. Ready to serve!