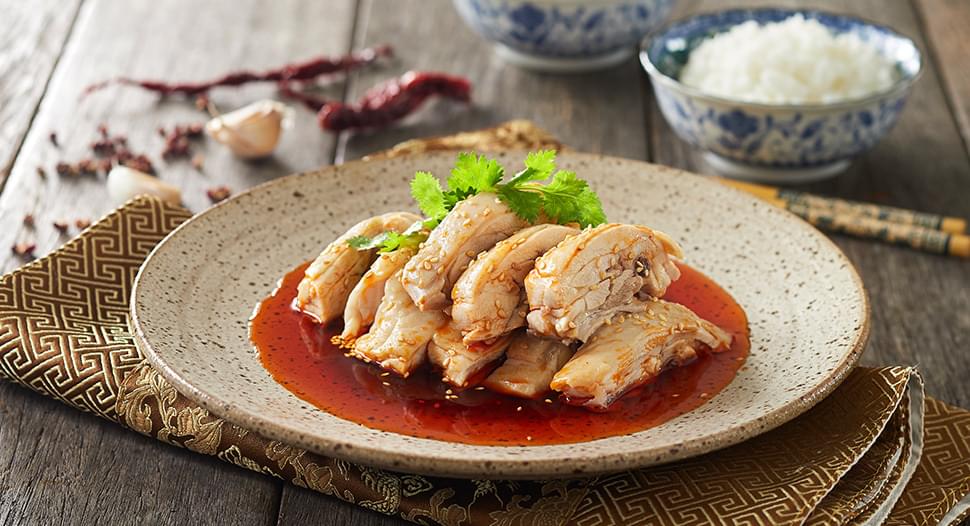 Mala Kou Shui Chicken
Ingredients
Chicken thigh

2

Coriander

for garnishing

Water

800 ml

Seasoning

Knorr SavorRich Concentrated Liquid Seasoning

2 tbsp

Knorr Mala Liquid Seasoning

2 tbsp

Sugar

1⁄2 tbsp

Chili oil

1⁄4 cup

Salt

1 pinch

White sesame seeds
How to cook
Step 1
In a medium pot, bring water to boil and add 2 tbsp of Knorr SavorRich concentrated liquid seasoning.
Step 2
Add whole chicken thigh and cook over medium heat for 20 minutes or until its cooked. Remove and soak it in cold water for 10 minute.
Step 3
Combine mala sauce, sugar, chili oil and salt in a bowl. taste and adjust the seasonings to your preference.
Step 4
Chop chicken into pieces, place it on a deep plate.
Step 5
Pour combined seasoning over chicken, sprinkle some white sesame seeds and garnish with coriander. Serve immediately.