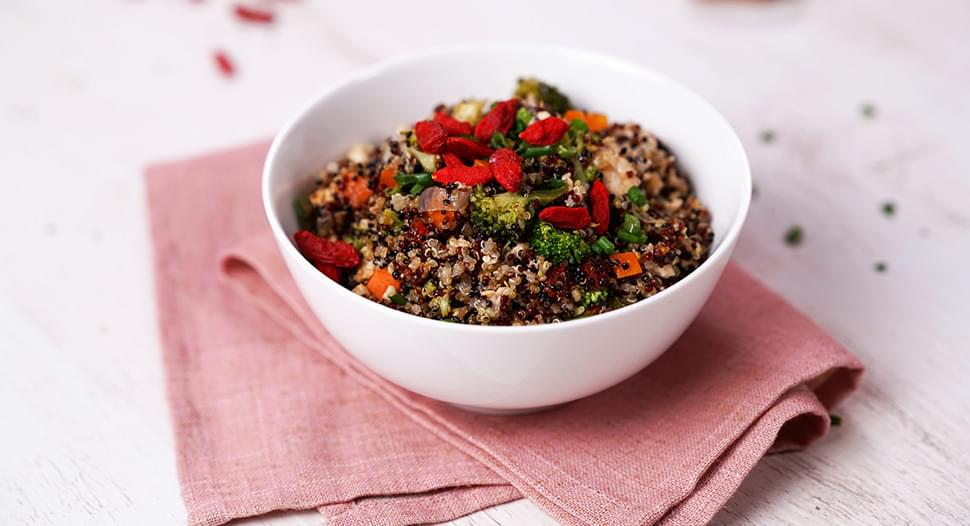 30-Minutes Quinoa Bowl
Ingredients
| | |
| --- | --- |
| Nature's Superfoods Organic Culinary Coconut Oil | 1 tbsp |
| small Onion, chopped | 1 |
| sliced Chicken | 80 g |
| Nature's Superfood Andean Grains Medley (Red, Black & White Quinoa with Amaranth seeds) | 1⁄2 cup |
| Water | 1 cup |
| Broccoli, cut | 1⁄4 cup |
| Carrots, cubed | 1⁄4 cup |
| Nature's Superfood Goji Berries | 2 tbsp |
| salt | 1 pinch |
| Garnish: chopped spring onion | |
How to cook
Step 1
Preheat rice cooker and add in coconut oil.
Step 2
Sauté the onion and chicken for two minutes.
Step 3
Add in the Andean grains and water into rice cooker. Cover it and let it cook.
Step 4
After 15 minutes, add in broccoli, goji berries and a pinch of salt. Close the lid and continue cooking for the next 10 minutes.
Step 5
After 10 minutes, open the lid and give all the ingredients a good mix.
Step 6
Garnish with spring onions to serve.