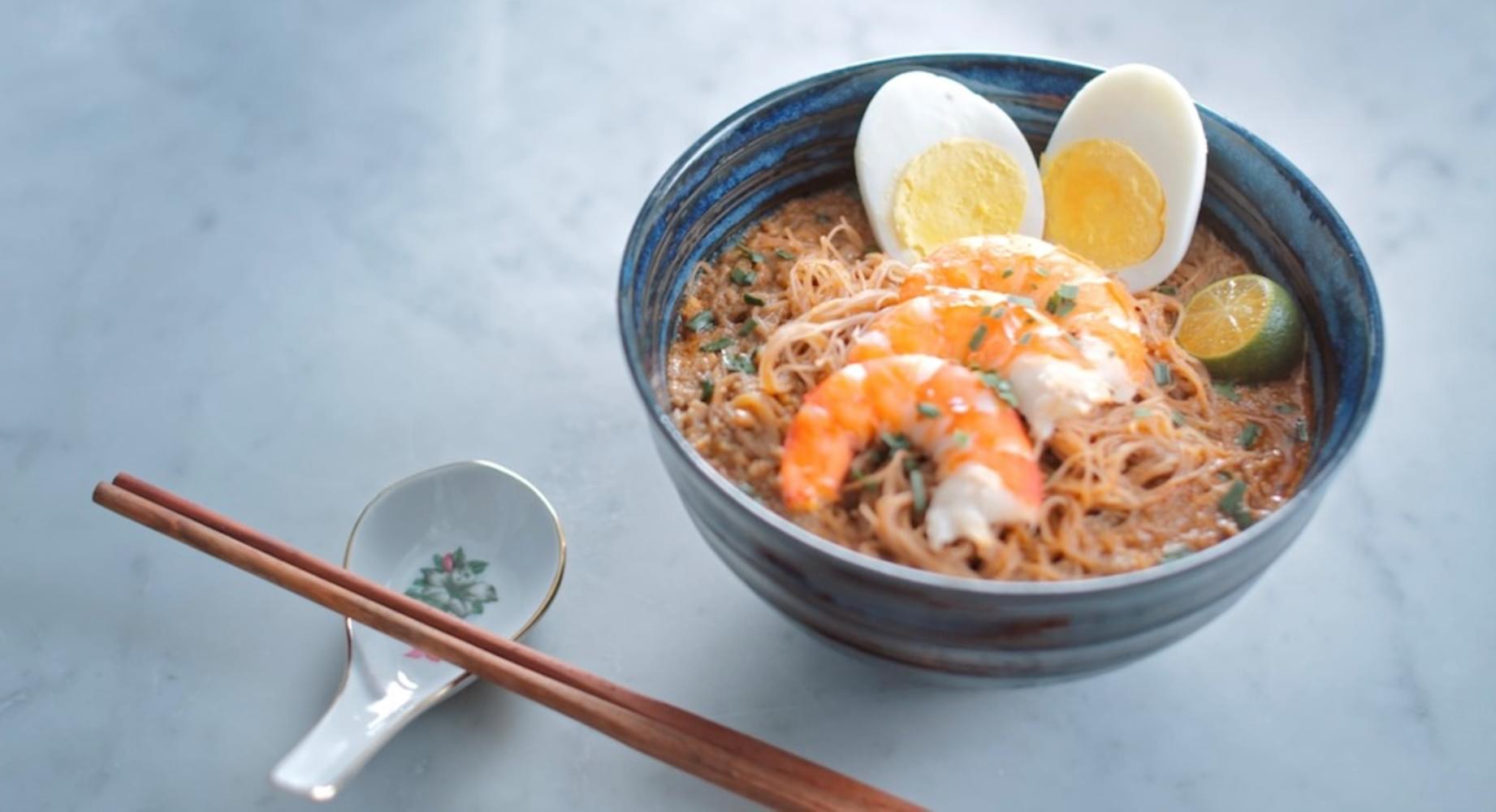 Indian Style Mee Siam with Fresh Prawns
Ingredients
Prawns

fresh

200 g

Eggs

hard-boiled

8

Red Cargo Rice Vermicelli

1 package

Sambal Tumis

100 g

Koo Chye

chopped

1

Red Onions

200 g

Chung Hwa Assam

dissolved in water

100 g

Garlic

20 g

Coconut Cream

200 ml

Candlenuts

20 g

Dried Shrimp

soaked and softened in water

20 g

Salted Bean Paste

150 g

Roasted Peanuts

roughly ground

100 g

Cooking Oil

1⁄2 cup

Sugar

175 g
How to cook
Prepare topping
Cook whole fresh prawns in a pot of boiling water for 10 minutes. Drain, peel, slice in half and set aside for topping.
Boil the eggs, peel then cut them into half.
Prepare vermicelli
Soak the red rice vermicelli in a bowl of hot water for 8-10 minutes. Drain well.
Fry the red rice vermicelli with a tablespoon each of oil and sambal tumis. Set aside.
Prepare paste
Blend onions, garlic, dried shrimps and candlenuts into a paste.
Start cooking
Add oil to the pot and saute the blended ingredients till fragrant for 10 minutes.
Add sambal tumis, salted bean paste and fry for 3 minutes.
Add ground peanuts, 1.5 liters of water and assam (dissolve in 500ml water, removed seeds) and simmer for 20 minutes.
Add sugar and coconut cream once the gravy is done simmering. Bring to a boil and simmer for 5 minutes
Assemble & serve
In a bowl, place a serving of rice vermicelli, then add some gravy over the vermicelli.
Garnish with a hard-boiled egg, chopped chives and half of a lime.
Before eating, squeeze the lime all over the mee siam.
Tried this recipe? Rate it!