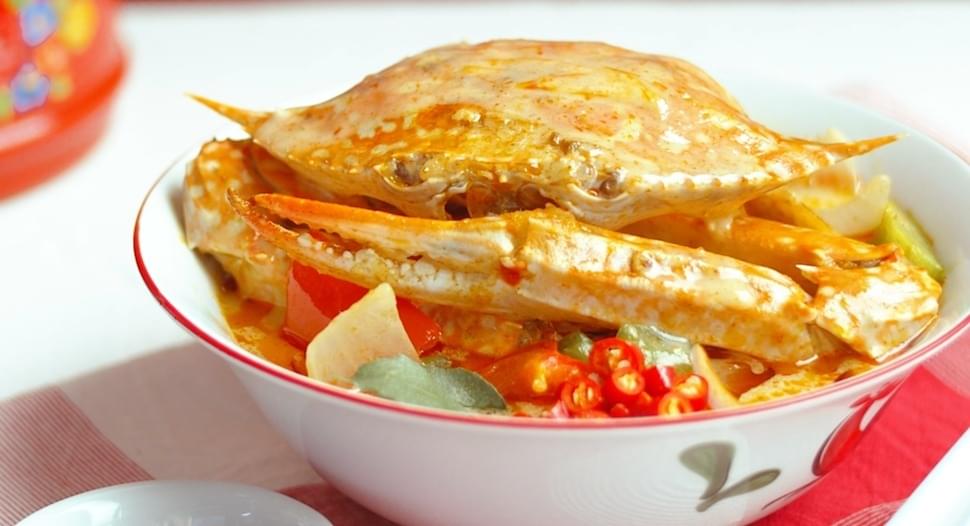 Laksa Crab
Ingredients
| | |
| --- | --- |
| flower crabs | 2 |
| flour | 200 g |
| green capsicum | 30 g |
| red capsicum | 30 g |
| red onion | 135 g |
| garlic cloves | 2 |
| laksa paste | 1⁄4 cup |
| sambal paste | 1 tbsp |
| water | 450 ml |
| coconut milk | 150 ml |
| flour | 2 tbsp |
| salt | 1⁄2 tsp |
| oil | 1⁄4 cup |
How to cook
Step 1
Clean and cut the flower crabs before coating them in flour.
Step 2
Pour oil into the pan and pan fry crabs well until fragrant (5 -7 mins).
Step 3
Throw in garlic before adding laksa, sambal paste and water.
Step 4
Add red onion, red capsicum and green capcsicum.
Step 5
Sprinkle salt and simmer until vegetables are soft (10 mins).
Step 6
Pour in coconut milk, stir well and turn off heat before serving!