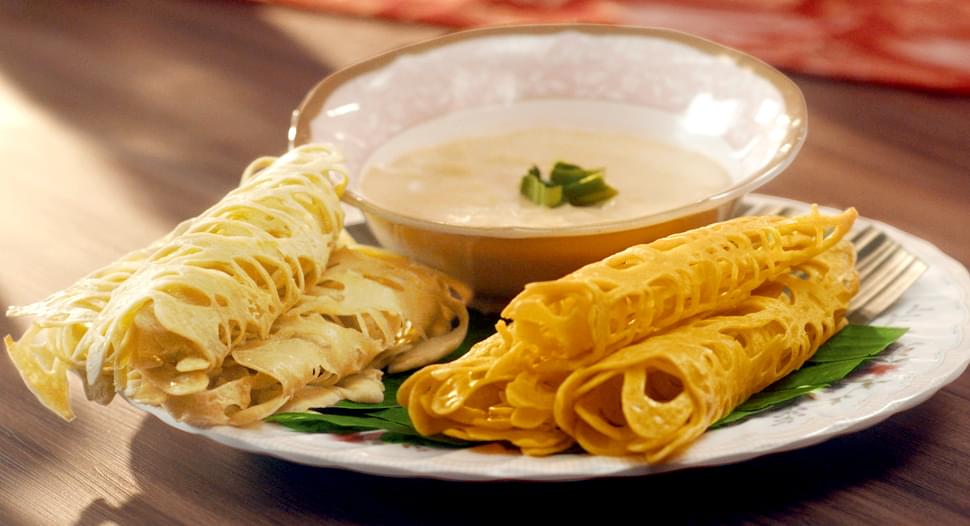 Roti Jala with Pengat Durian
Ingredients
| | |
| --- | --- |
| Coconut Milk | 1⁄2 cup |
| Plain Flour | 1 cup |
| Turmeric | 1⁄4 tsp |
| Salt | 1⁄2 tsp |
| Egg | 1 |
| Water | 1⁄2 cup |
| Red Food Colouring | 1⁄2 tsp |
| Vegetable Oil | 2 tbsp |
| Pandan Leaves | 4 |
| Water | 100 ml |
| Water | 1⁄2 cup |
| Turmeric | 1⁄2 tsp |
| Pandan Extract | 1⁄2 tbsp |
| Vegetable Oil | |
| Durian Flesh | 275 g |
| Coconut Milk | 40 g |
| Water | 450 ml |
| Pandan Leaves | 3 |
| Coconut Milk | 200 ml |
| Water | 200 ml |
| Brown Sugar | 1 tbsp |
| Caster Sugar | 1⁄4 cup |
| Salt | 1⁄4 tsp |
How to cook
Step 1
Whisk together the flour, water, coconut milk, eggs and salt in a bowl until smooth. Strain the mixture if needed.
Step 2
Separate the mixture into 2 batches, mix turmeric in one and pandan extract in the other.
Step 3
Heat a very lightly greased pan in the toaster oven for 3 mins.
Step 4
Working quickly, invert the bottle and drizzle the batter in quick circular or zig-zag motions to form a net-like pattern.
Step 5
Allow the pancakes to cook for 2 mins in the toaster oven at 200°C without flipping it. Watch it closely do it doesn't burn.
Step 6
Remove the pancakes from the pan. Using a dough scraper, fold in the sides and roll it up.
Step 7
Bring the durian flesh and coconut milk to a gentle simmer in another pot.
Step 8
Add in water, pandan extract, coconut milk, sugars, salt and water. Set aside to cool.
Step 9
Serve your pancakes hot with durian sauce on the side!