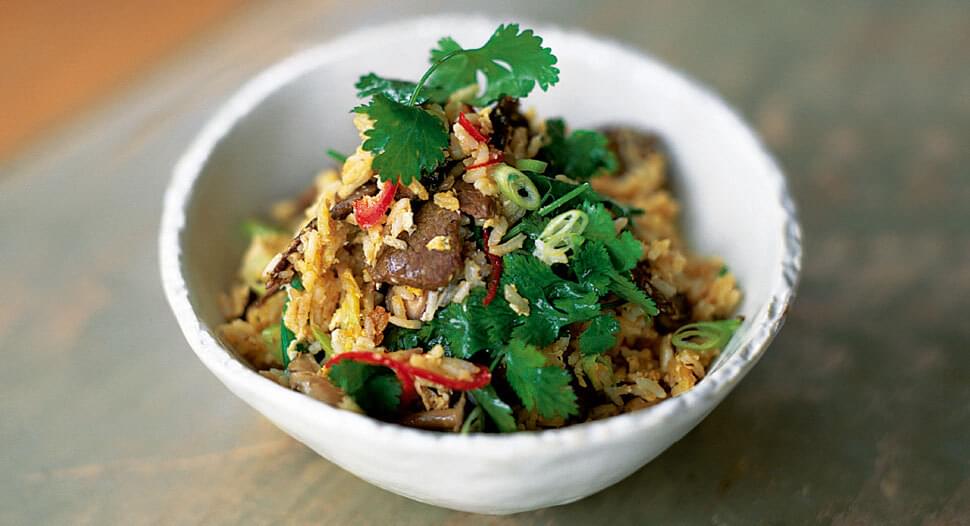 Beef Fried Rice
Ingredients
| | |
| --- | --- |
| Long grain rice | 150 g |
| Garlic | 1 clove |
| Ginger (2.5cm) | 1 piece |
| Spring onions | 6 |
| A few sprigs Fresh coriander | |
| fresh Red chillies | 2 |
| Beef topside or steak | 250 g |
| Groundnut oil | |
| Exotic mushrooms, such as Japanese enoki, shiitake | 1 |
| large Free-range eggs | 2 |
| Fish sauce | |
| Low-salt soy sauce | |
| Sesame oil | |
| Lime (Optional) | 1 |
How to cook
Step 1
Cook the rice according to the packet instructions, then drain, spread out on a tray and leave to cool completely.
Step 2
Peel the garlic and ginger. Trim and quarter 4 spring onions, then place in the mini chopper.
Step 3
Pick most of the coriander leaves, add 1½ chillies (deseed if you like), then pulse to a paste.
Step 4
Slice the beef thinly into bite-sized pieces.
Step 5
Heat 1 tablespoon of groundnut oil in a wok or large frying pan over a high heat, add beef and stir-fry for 1 minute or until it starts to brown.
Step 6
Add the paste, tear in the mushrooms, and fry for 2 minutes.
Step 7
Add the cooled rice and stir-fry for 2 further minutes, or until the rice is piping hot.
Step 8
Trim and finely slice the remaining spring onions and chilli.
Step 9
Push the contents of the pan to one side, then crack the eggs into the empty space, stirring to break them up.
Step 10
When the eggs are just cooked but still soft, toss through the rice and remove from the heat.
Step 11
Season to taste with fish and soy sauces, add the sesame oil, then scatter over the coriander, spring onions and chilli.
Step 12
Serve with lime wedges on the side for squeezing over, if you like.