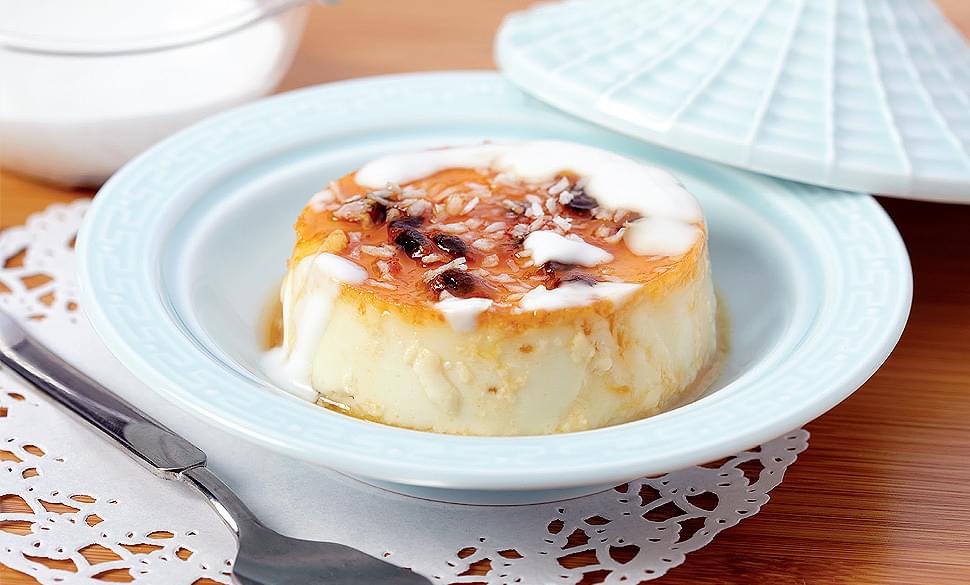 Coconut Cream Flan With Passion Fruit
Ingredients
| | |
| --- | --- |
| Cups Sugar (200g for caramelisation, 115g for flan) | 315 g |
| Water | 60 ml |
| Passion Fruit Pulp | 125 ml |
| FairPrice Natural Coconut Cream | 400 ml |
| FairPrice Full Cream UHT Milk | 375 ml |
| Pasar Singapore Farm Fresh Eggs | 6 |
| Butter the ramekins | |
How to cook
Step 1
Pre heat oven to 160 degrees Celsius.
Step 2
Mix water and 200ml of sugar in a sauce pan and bring to boil for 5 min till golden brown.
Step 3
Remove from heat and let it cool. Add passion fruit pulp.
Step 4
Grease the ramekins with butter.
Step 5
Now pour mixture into ramekins.
Step 6
Now whisk in a medium bowl remaining sugar, milk, coconut milk and egg.
Step 7
Now strain through a fine sieve into a jug and into the ramekins.
Step 8
Pour boiling water into the baking tray to come half way up the side of each ramekin.
Step 9
Bake in oven for 30min or until set.
Step 10
Remove from oven and let it cool for 10 min at room temperature then cover with plastic wrap and place in fridge to chill for 30mins.