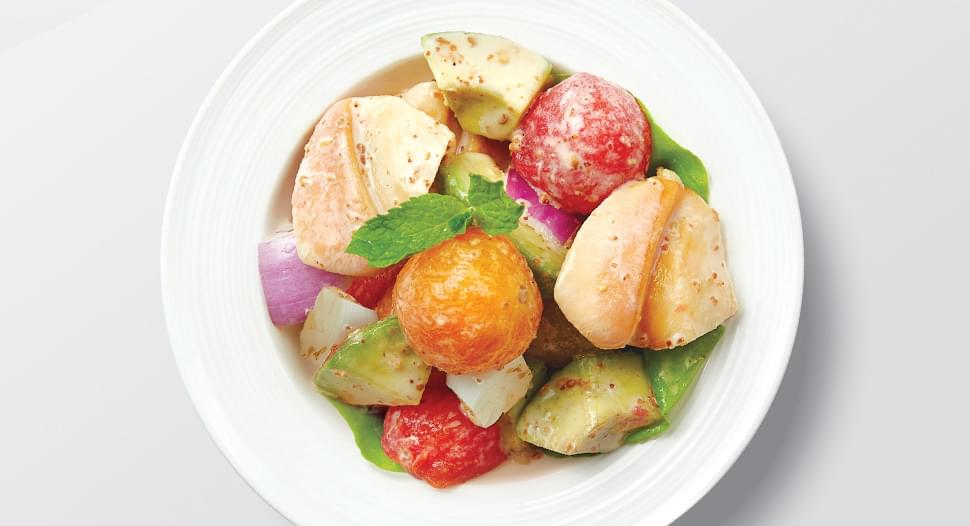 Pacific Clam with Roasted Sesame Dressing
Ingredients
Pacific clams, drained

1 can

Cherry tomatoes

red

20

Cherry tomatoes

yellow

15

Butterhead lettuce

10

Avocado, cut in cubes

1

Red onion (medium sized), cut in cubes

1⁄2

Golden Chef Roasted sesame dressing

1⁄2 cup

Mint leaves as garnish

2 sprigs
How to cook
Step 1
Cut a small cross lightly at the bottom of the red and yellow cherry tomatoes.
Step 2
Blanch in boiling water for 10 seconds then shock in ice water and remove skin. Keep chilled.
Step 3
Place the cubed avocados and red onions in a large mixing bowl. Add Golden Chef Roasted Sesame Dressing and toss well.
Step 4
Add Golden Chef Pacific Clams and the rest of the ingredients, toss well and keep chilled.
Step 5
Garnish with mint leaves. Ready to serve.