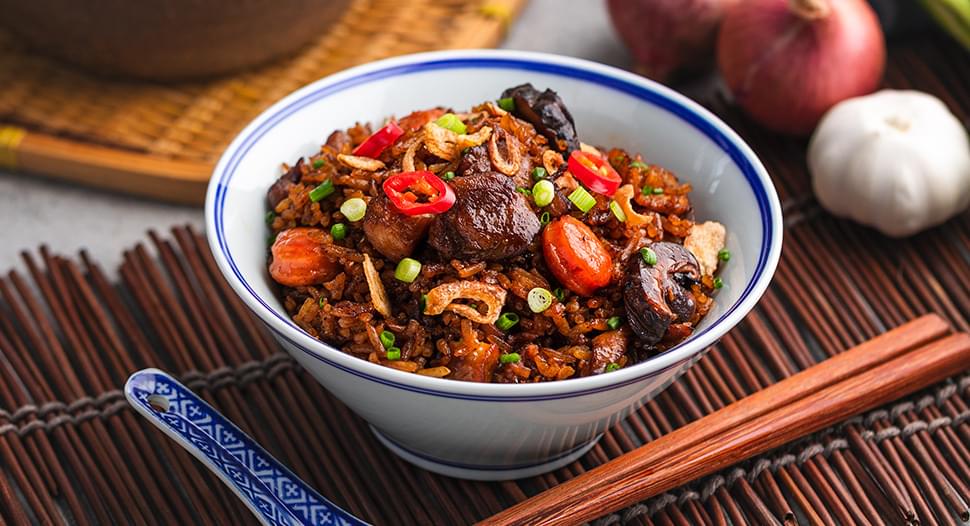 Rice Cooker "Claypot" Rice
Ingredients
Rice

washed

2 cups

Chicken Thighs

cut into 2cm cubes

3

Chinese Sausages

sliced

2

Dried Shiitake Mushrooms

sliced

4

Chicken Stock Powder

1 tbsp

Red Onion

thinly sliced

1

Garlic

thinly sliced

4 cloves

Ginger

(2cm), (optional)

1 slab

Chicken Marinade

Garlic

grated

1 clove

Ginger

(1cm), grated (optional)

1 piece

Light Soy Sauce

1 tbsp

Sweet Dark Soy Sauce

or equal parts dark soy sauce & sugar)

2 tbsp

Salt

to taste

Pepper

to taste

Garnish (optional)

Spring Onions

Chopped

2

Chilli

1

Fried shallots

Sesame Oil
How to cook
Step 1
Rehydrate the mushrooms in hot water until plump.
Remove the stem, slice mushrooms and keep the mushroom liquid. Set aside.
Step 2
Combine the Chicken Marinade ingredients and adjust to taste.
Marinate the cut chicken and set aside for 10 mins.
Step 3
Heat 2 tbsp of cooking oil in a frying pan.
Fry garlic, onion and ginger for about 1-2mins or until aromatic.
Add Chinese sausage and cook for another minute.
Remove from the pan and set aside.
Step 4
Cook marinated chicken together with the marinade and season with sugar and pepper to taste.
Sauté until chicken is well-cooked.
Step 5
Turn off the fire, stir in the rice, chicken stock powder, mushrooms & Sausage-Onion mix, quickly coating each grain with sauce, ensuring not to burn the rice.
Step 6
Transfer mixture to your rice cooker and add the water per your rice cooker instructions.
You can also use the reserved mushroom liquid as part of the water.
Once the rice is cooked, switch to 'keep warm' mode and wait for 10 mins.
Step 7
Add sesame oil and fluff the rice.
Garnish with spring onions, chili, and shallots, serve warm.