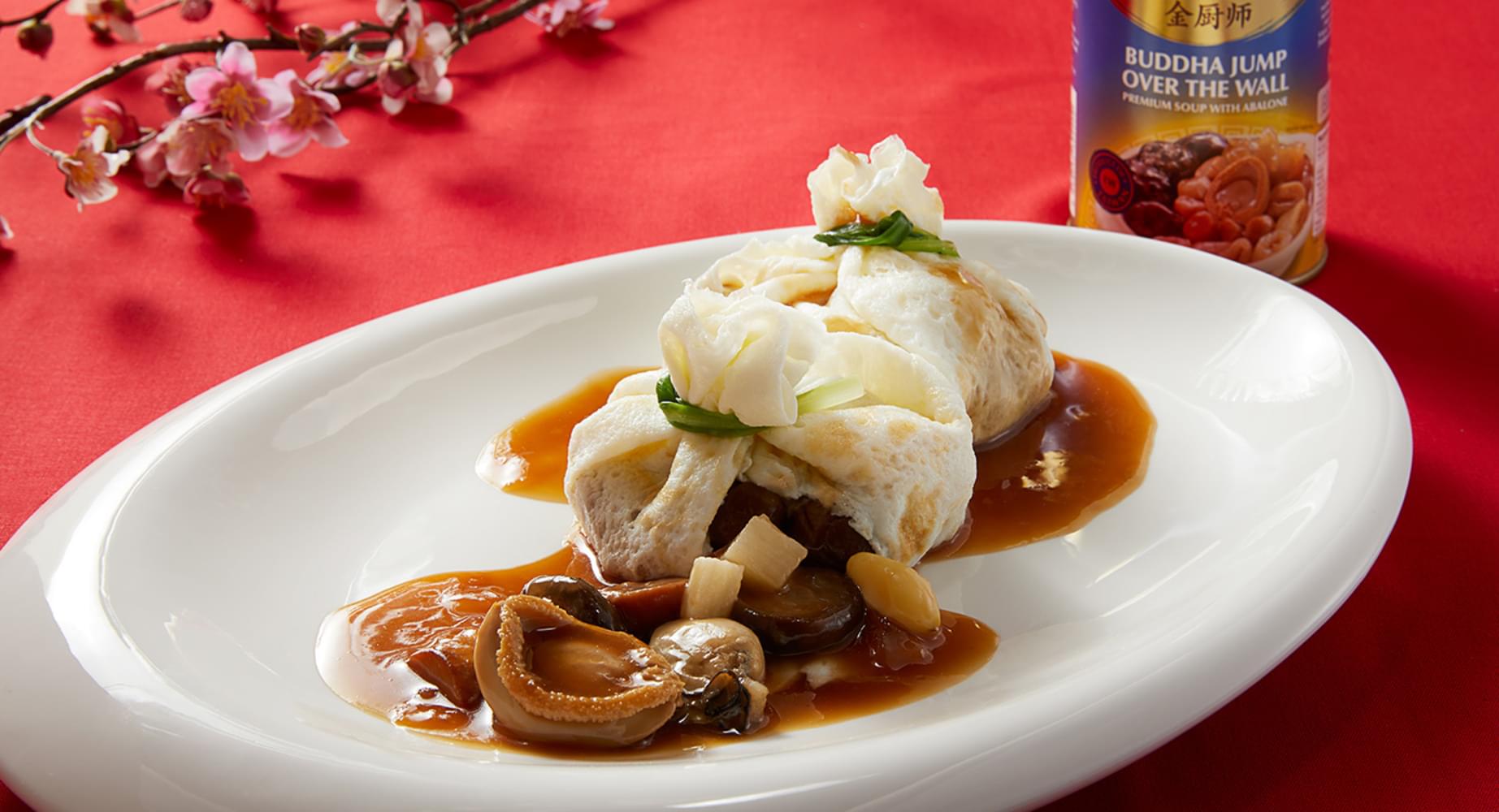 Buddha Jump Over The Wall in Egg White Fortune Pouch
Ingredients
Golden Chef Buddha Jump Over The Wall

1 can

King Oyster Mushrooms

80 g

Gingko Nuts

Cooked

15

Chinese Yam (Huai Shan)

50 g

Sweet Potatoes

100 g

Quail Eggs (Hard-boiled)

6

Cooked Chestnuts

6

Egg White

5

Corn Starch

1 tbsp

Oyster Meat (Fresh/Frozen)

3

Dark Soy Sauce

1 tsp

Blanched Royale Chives (Qing Long Cai)

5

FairPrice Canola Oil

1 dash
How to cook
Step 1
Strain the Buddha Jump Over The Wall by separating the soup from the ingredients. Set aside.
Step 2
Cut the sweet potatoes, chinese yam into cubes and slice king oyster mushroom.
Step 3
Dust the quail eggs, chinese yam, king oyster mushroom, sweet potato with corn starch and deep fry till golden brown.
Step 4
Mix the fried ingredients with the oysters and Buddha Jump Over Wall ingredients in a large mixing bowl.
Step 5
In a separate bowl, mix egg white with corn starch.
Step 6
Over medium heat, add some oil and pour a small amount of mixture onto frying pan (enough to thinly fill the base of the pan) to make a thin layer of egg white wrap. The mixture is enough for 3 wraps.
Step 7
Egg wrap is ready when the mixture is dry. Ensure there are no holes in the wrap.
Step 8
Lay the egg white wrap on a bowl and add enough mixed ingredients on it.
Step 9
Tie the wrap with the blanched royale chive and steam for 15 mins.
Step 10
Heat up the soup from Buddha Jump Over the Wall and season with dark soy sauce.
Step 11
Place the steamed egg white pouch on a deep dish plate and pour the sauce over the pouch.