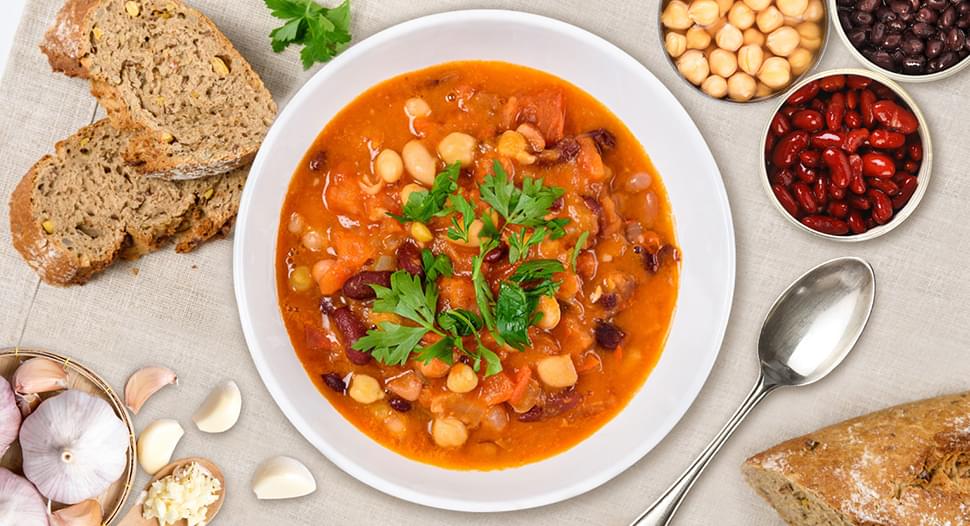 Easy Bean Stew
Ingredients
Red Onion

1

Carrot

1

Tomatoes

chopped

1 can

Garlic

2

Coriander

for dressing

Paprika Powder

2 tsp

Cumin Powder

2 tsp

Dried Chili Flakes

1 tsp

Chickpeas

1 can

Kidney beans

1 can

Black beans

1 can

Salt

Pepper
How to cook
Step 1
Peel and roughly chop the red onion, garlic and carrots.
Add to a food processor and blend until finely chopped.
Step 2
Heat up a large pan with some oil and add all of the vegetables.
Stir-fry for a few minutes until softened.
Step 3
Add in the spices, pouring in a dash of water if needed.
Step 4
Next add the chopped tomatoes, then fill this can up with some water and add it into the pan to stir it through.
Step 5
Drain, rinse and add all the beans.
Step 6
Season with salt, pepper, and bring to a boil.
Simmer for at least 15 – 20 minutes; if you have the time, continue cooking for an hour to develop the flavour and spices.
Add in any water if the stew needs it.
Step 7
When the stew is ready to serve, top it with some roughly chopped coriander if you prefer.