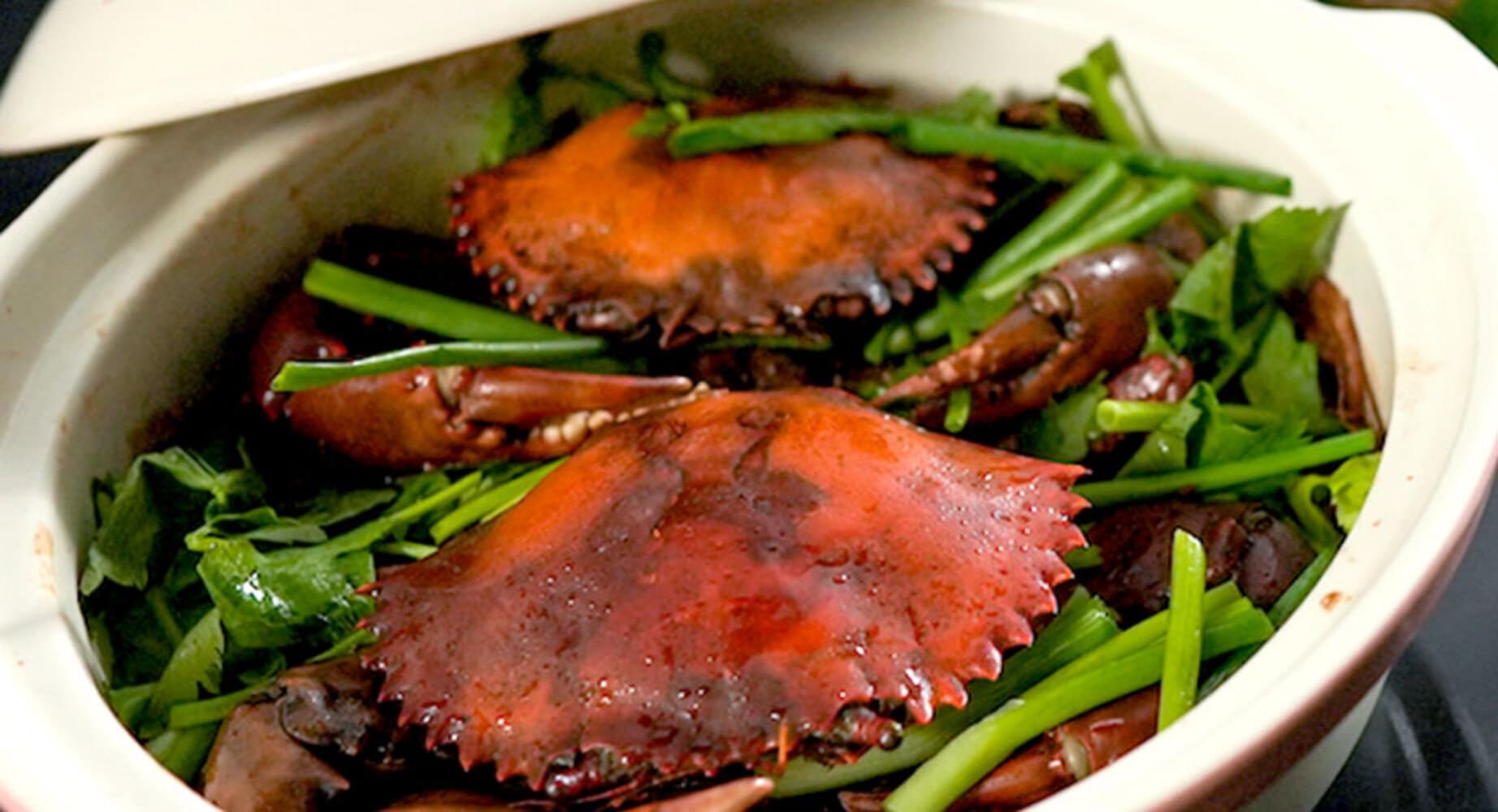 Ingredients
Mud Crabs

purchase in-store

450 g

Smoked Duck Breast

sliced

150 g

Rice Vermicelli

150 g

Ginger

sliced

30 g

Garlic

5

Coriander Roots

smashed

3

Five Spice Powder

1⁄2 tsp

White Pepper

1 dash

Chinese Celery

garnish

1 stalk

Spring Onion

garnish

1

Vermicelli Marinade

Chicken Broth

100 ml

Evaporated Milk

40 ml

Sesame Oil

1 tbsp

Oyster Sauce

3 tbsp

Dark Soy Sauce

1 tbsp

Light Soy Sauce

1⁄2 tbsp
Dipping Sauce

Garlic Cloves

3

Red Chilli Padi

1

Lime

1

Coriander

chopped

1

Fish Sauce

2 tbsp

Sugar

1 tsp

Water

2 tbsp
How to cook
Prepare vermicelli
Soak the vermicelli in water for 5 mins. As you wait, prepare the vermicelli marinade by mixing all of the ingredients together.
Drain all water from the vermicelli before pouring in the marinade. Ensure that the vermicelli is coated thoroughly and leave the flavours to infuse for 10 mins.
Prepare dipping sauce
Blend all the ingredients for the dipping sauce together.
The spiciness and overall taste can be adjusted to your liking.
Start cooking
Remove the shell and pincers from the mud crabs. Halve the shells.
Stir fry the garlic, ginger, coriander root, five spice powder and smoked duck with a dash of white pepper in a clay pot until fragrant.
Place the marinated vermicelli on top, followed by the mud crabs.
Preheat the oven to 220°C.
Bake for 30 mins until the mud crabs are fully cooked through.
Garnish with the chopped Chinese celery and spring onion before serving.
Tried this recipe? Rate it!