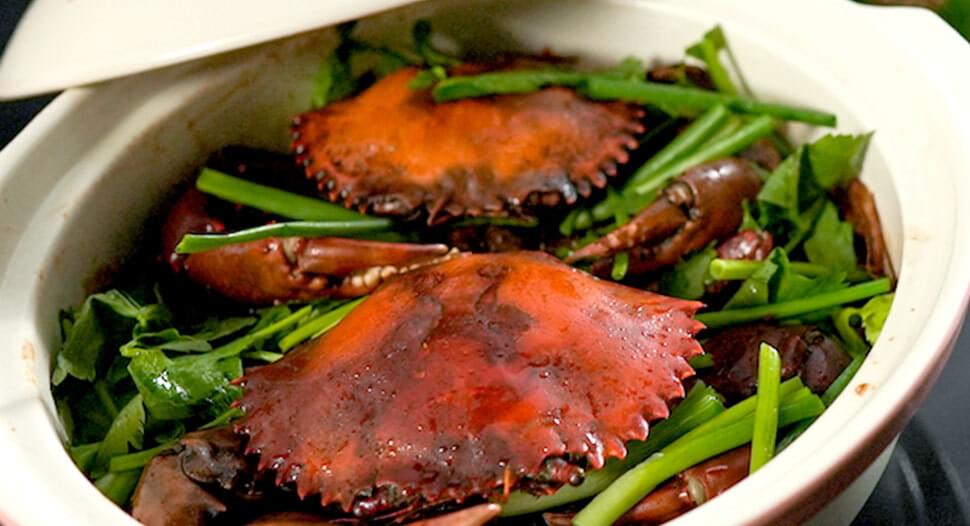 Mud Crab Vermicelli
Ingredients
Mud Crabs

(purchase in-store)

450 g

Smoked Duck Breast (Sliced)

150 g

Vermicelli

150 g

Ginger (Sliced)

30 g

Garlic Cloves

5

Coriander Roots (Smashed)

3

Five Spice Powder

1⁄2 tsp

White Pepper

1 dash

Chinese Celery (To Garnish)

1 stalk

Spring Onion (To Garnish)

1

Vermicelli Marinade

Light Soy Sauce

1⁄2 tbsp

Dark Soy Sauce

1 tbsp

Sesame Oil

1 tbsp

Oyster Sauce

3 tbsp

Evaporated Milk

40 ml

Chicken Broth

100 ml

Dipping Sauce

Garlic Cloves

3

Red Chilli Padi

1

Lime

1

Fish Sauce

2 tbsp

Sugar

1 tsp

Coriander (Chopped)

1

Water

2 tbsp
How to cook
Step 1
Preheat the oven at 220°C. Soak the vermicelli in water for 5 mins. As you wait, prepare the vermicelli marinade by mixing all of the ingredients together.
Step 2
Drain all water from the vermicelli before pouring in the marinade. Ensure that the vermicelli is coated thoroughly and leave the flavours to infuse for 10 mins.
Step 3
Remove the shell and pincers from the mud crabs. Halve the shells.
Step 4
Stir fry the garlic, ginger, coriander root, five spice powder and smoked duck with a dash of white pepper in a clay pot until fragrant.
Step 5
Place the marinated vermicelli on top, followed by the mud crabs.
Step 6
Bake for 30 mins or until the mud crabs are fully cooked through.
Step 7
Blend all the ingredients for the dipping sauce together. The spiciness and overall taste can be adjusted to your liking.
Step 8
Garnish with the chopped Chinese celery and spring onion before serving.