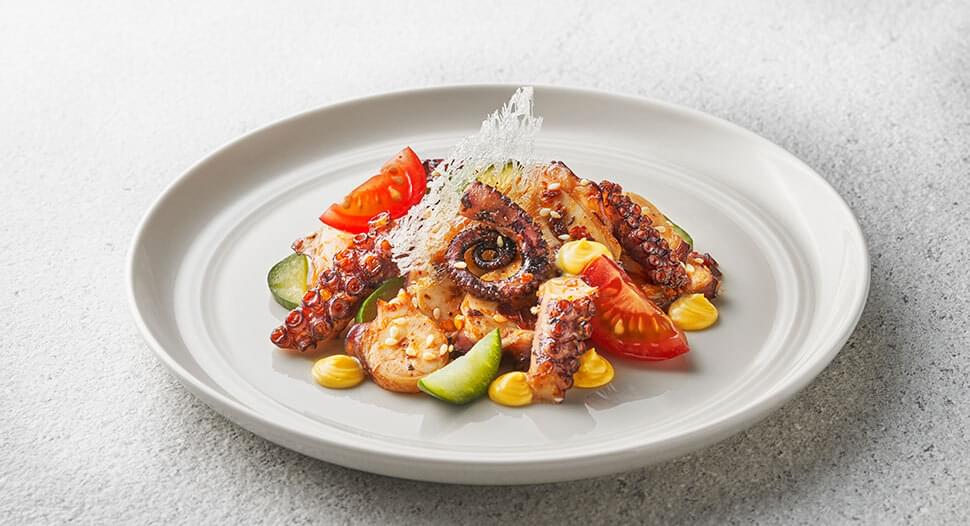 Octopus Carpaccio with Kimchi Cream
Ingredients
Octopus

Raw Octopus

600 g

Vegetable Stock

1.5 l

White Wine

300 ml

Garlic, chopped

2 cloves

Yellow Onion, chopped

1

Red Onion, chopped

1

Leek, chopped

2 stalks

Bay Leaf

2

Black Peppercorns

1 tbsp

Dried Juniper Berries

1 tbsp

Sea Salt

2 tbsp

Cooking Oil

3 tbsp

Crispy Chilli Sauce

2 tbsp

Sesame Oil

1 tbsp

Grain Vinegar

2 tbsp

Plain Water, if needed

Kimchi Cream

Kimchi

80 g

Sour Cream

80 g

Pickled Japanese Cucumber

Japanese Cucumber, chopped

2

Grain Vinegar

1⁄3 cup

Brown Sugar

2 tbsp

Sea Salt

1 tbsp

Garnishing

small Ripe Tomatoes (cherry or vine), halved

6

Rice Crackers of your choice

2
How to cook
Step 1
Sauté garlic, onions and leeks for 7 mins in a medium-sized stock pot. Stir occasionally.
Step 2
Add white wine to deglaze pan, then add the vegetable stock.
Step 3
Add octopus, bay leaf, peppercorns and juniper berries and simmer gently until tender for at least 45 mins to 1.5 hrs. Test for tenderness with a skewer.
Step 4
Remove from pot and chill overnight. Slice thinly and toss in crispy chilli sauce.
Step 5
Blend the kimchi and sour cream in a blender until fine and smooth. Set aside in refrigerator to chill in a piping bag.
Step 6
Mix grain vinegar, sugar and sea salt.
Step 7
Place cucumbers in a medium Ziploc bag and pour vinegar mixture in. Chill in refrigerator for 3 to 6 hrs.
Step 8
Arrange slices of octopus, dots of kimchi cream, pickled cucumber, tomatoes and garnish with rice crackers. Serve immediately!