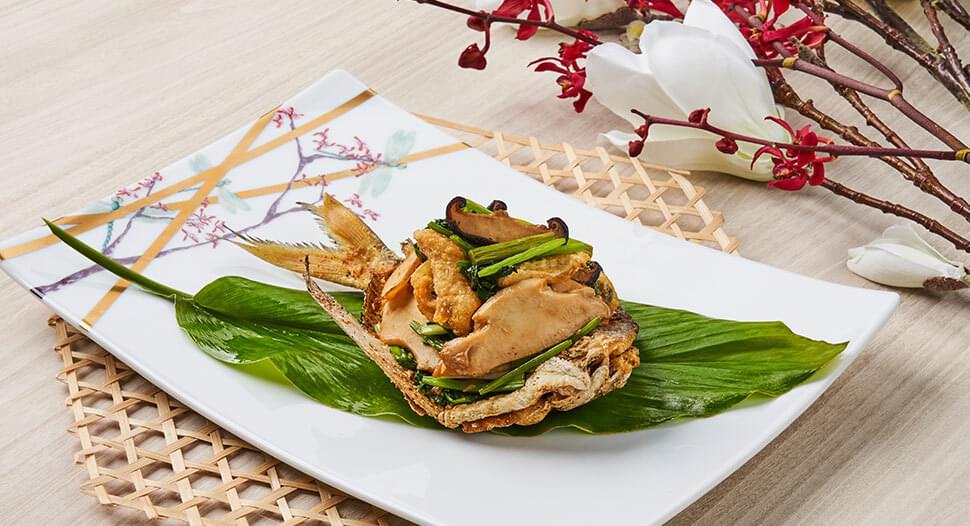 Australian Premium Wild Abalone With Pomfret
Ingredients
Golden Chef Australian Premium Wild Abalone

1 can

White Pomfret

1

Chives/Garlic Flower (Cut into 3cm length)

100 g

Chinese Celery (Cut into 3cm length)

30 g

Large Shiitake Mushroom (Sliced)

30 g

Spring Onion (Cut into 2cm length)

2

Golden Chef Sesame Oil

1 tsp

FairPrice Canola Oil

400 ml

Seasoning for Pomfret Bone Frame

Chilli Powder

1⁄2 tsp

Curry Powder

1⁄2 tsp

Corn Flour

1 tbsp

White Pepper

1 dash

Golden Chef Sesame Oil

1 dash

Seasoning for Pomfret Fillet

Salt

1⁄2 tsp

Corn Flour

1 tbsp

Seasoning for Stir-Frying

Golden Chef Sesame Oil

1⁄2 tsp

FairPrice Canola Oil

1 tbsp

Light Soy Sauce

1 tbsp

Young Ginger (Thumb-size, Minced)

1 thumb

Garlic (Minced)

3 cloves

Abalone Brine

1 tbsp

Water

2 tbsp
How to cook
Step 1
Strain the can of abalone and keep the brine / stock for other uses like steamboat or porridge etc. Reserve 1 tbsp of brine for stir frying vegetables later.
Step 2
Slice the abalone thinly and set aside.
Step 3
Remove meat from pomfret, leaving its bone frame intact. Rub fish bone with the seasoning and leave it to marinate for 10 minutes.
Step 4
Slice fish meat thinly and season the fish slices.
Step 5
Add 400ml of FairPrice Canola Oil in a pan and deep fry fish bone until crispy. Drain and set aside.
Step 6
In the same oil, deep fry fish fillet for about 4 minutes. Drain and set aside.
Step 7
In a wok pan, heat up 1 tbsp of FairPrice Canola Oil. Stir fry the mushrooms until golden brown. Add in chive flowers and stir fry together.
Step 8
Add in ½ tsp of sesame oil, 1 tbsp of soy sauce, ginger and garlic. Stir well then add in water, abalone brine and Chinese celery.
Step 9
When almost ready, add in abalone slices and toss briefly for about 30 seconds.
Step 10
Add in spring onions and a touch of sesame oil just before dishing up.
Step 11
Place stir-fried ingredients and deep-fried fish fillet on top of the fish bone and dish is ready to serve.