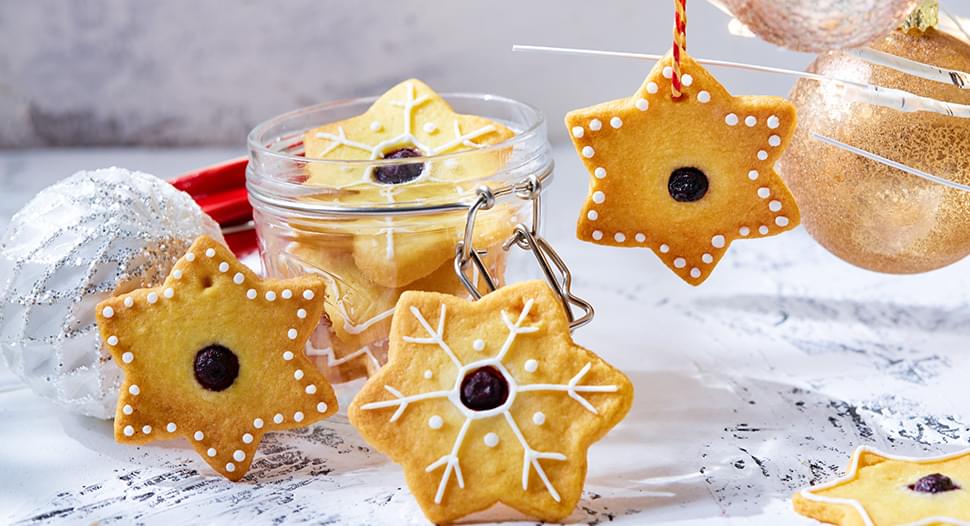 Berry Christmas Cookies
Ingredients
| | |
| --- | --- |
| Dole Frozen Blueberries | 1 bag |
| All-purpose flour | 2 cups |
| Baking powder | 1⁄2 tsp |
| Salt | 1⁄4 tsp |
| Unsalted butter | 1⁄2 cup |
| Sugar | 1 cup |
| large Egg | 1 |
| Vanilla extract | 1 tsp |
| tube Ready-made icing | 1 |
How to cook
Step 1
Whisk flour, baking powder and salt in a large bowl to form flour mixture.
Step 2
Mix butter and sugar together with an electric mixer until light and fluffy. Beat in egg and vanilla extract.
Step 3
In the same mix, gradually add flour mixture on low speed and continue to beat until the mixture is combined.
Step 4
Wrap dough in cling wrap and freeze for approximately 10-20 minutes until firm.
Step 6
Roll and flatten out the dough to about 0.5cm thick on baking paper.
Step 7
Use a cookie cutter to cut the dough into your desired shape. Gently press one blueberry in the center of each cookie.
Step 8
Repeat the steps for the remaining dough.
Step 9
Bake at 160°C for 15-20 minutes until edges are golden. Leave the cookies to cool completely on wire racks.
Step 10
Decorate the cookies with icing and serve.