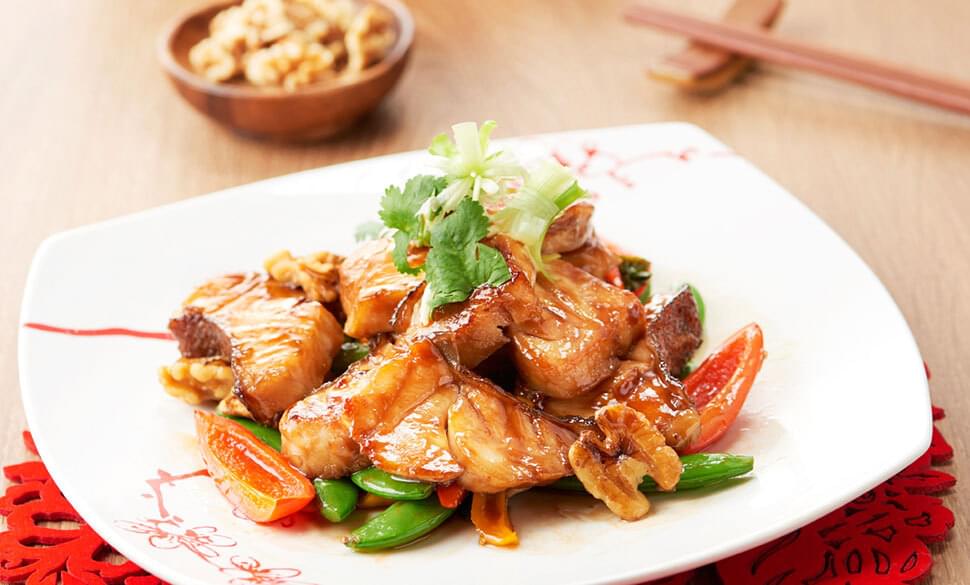 Abundant Pan-fried Grouper with Oyster Sauce
Ingredients
Lee Kum Kee Premium Oyster Sauce

30 g

Grouper Fillet

300 g

Sugar

20 g

Maggi Seasoning

10 g

Dark Soy Sauce

5 g

Salt

2 g

Chinese Wine

1 tbsp

Garlic

5 g

Sweet Peas

100 g

Walnuts (roasted)

30 g

Mini Bell Peppers (mixture of Green, Red & Yellow)

30 g

Cooking Oil

for frying fish

2 tsp

Cooking Oil

for frying vegetables

2 tbsp
How to cook
Step 1
Cut grouper fillet into slices.
Step 2
Mix oyster sauce, sugar, seasoning and dark soy sauce together in a bowl.
Step 3
Coat fish slices with marinade entirely and set aside for 20 mins.
Step 4
Heat up oil in the pan, add garlic, and pan fry the sweet peas, roasted walnuts and mini bell peppers over high heat.
Step 5
Season with salt and deglaze with Chinese Wine. Plate and set aside.
Step 6
Add oil in the pan, then pan fry the fish over medium-low heat till fully cooked.
Step 7
Place the vegetables on the centre of the plate and top with the sliced grouper.
Step 8
Garnish with spring onion.