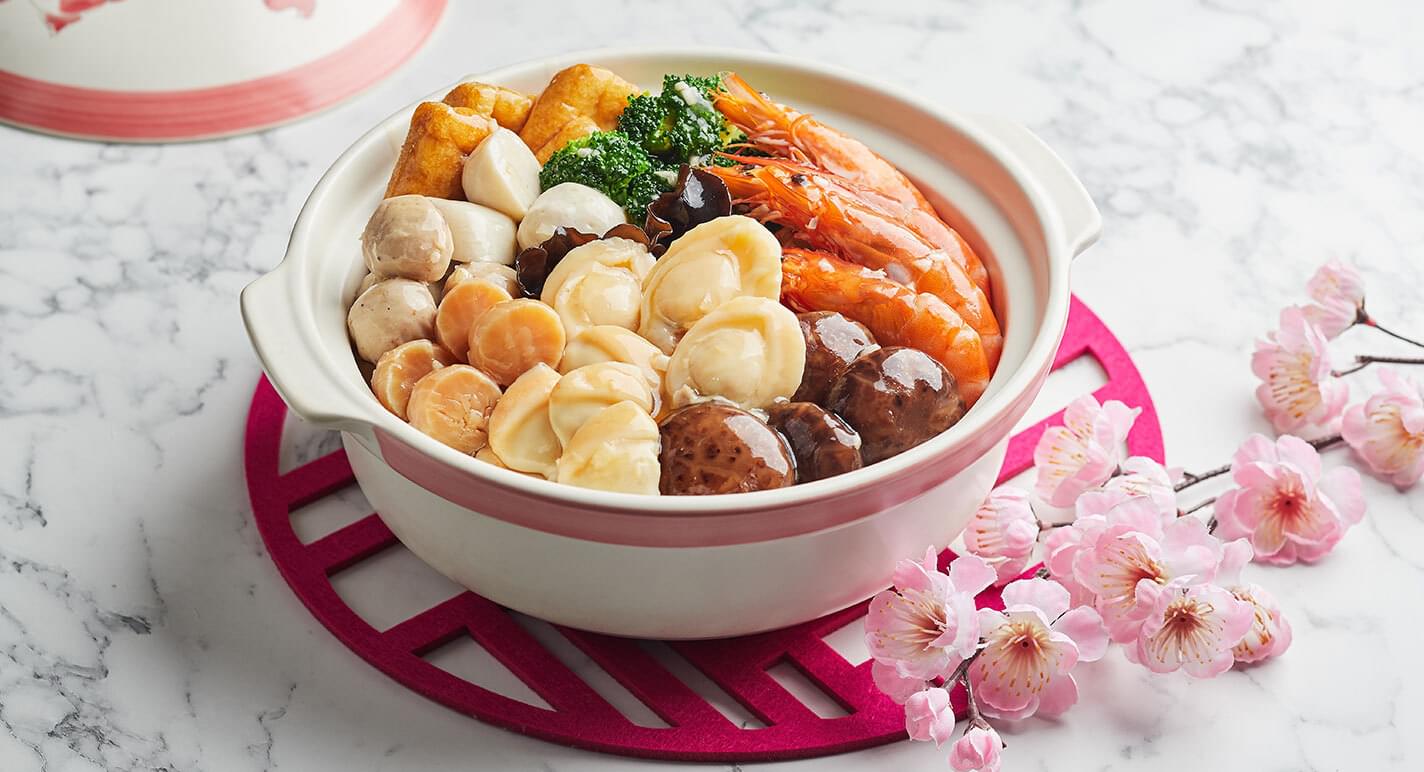 Prosperity Pen Cai
Ingredients
Canned Abalone

8 pieces

Canned Pacific Clams

8 pieces

Conpoy (dried scallops), reconstituted

8

Pork/Fish balls

8 pieces

Prawns, cooked

8

Broccoli florets, blanched

8

Black Fungus, blanched

8

Shiitake Mushroom, soaked & blanched

8

Dried Beancurd (taupok)

8 slabs

Baby Napa Cabbage, cut into 2 and blanched

1

Spring onion for garnish

Sauce

Cooking Oil

3 tbsp

Garlic, mince

8 cloves

Knorr SavorRich Chicken Concentrated Seasoning (or as needed)

1⁄3 cup

Knorr Hao Chi All-In-One Seasoning

1 tbsp

Light Soy Sauce (as needed)

Dark Soy Sauce (as needed)

Shao Xing Wine (optional)

2 tbsp

Sesame Oil

1 tbsp

Water (or as needed)

500 ml

Corn Starch & Water (5 tbsp cornstarch to 1 tbsp water)
How to cook
Step 1
In a flat bottom cookware such as a wok/casserole/claypot, assemble the napa cabbage at the bottom, followed by the rest of the ingredients.
Step 2
Next, prepare the sauce by sautéing garlic with cooking oil until nicely browned.
Step 3
Add remaining ingredients and allow to simmer except corn starch mixture. Adjust the sauce to taste.
Step 4
When the liquid comes to a boil, add corn starch mixture to thicken the sauce.
Step 5
Pour prepared sauce to simmer the entire casserole, with cover for about 5mins.