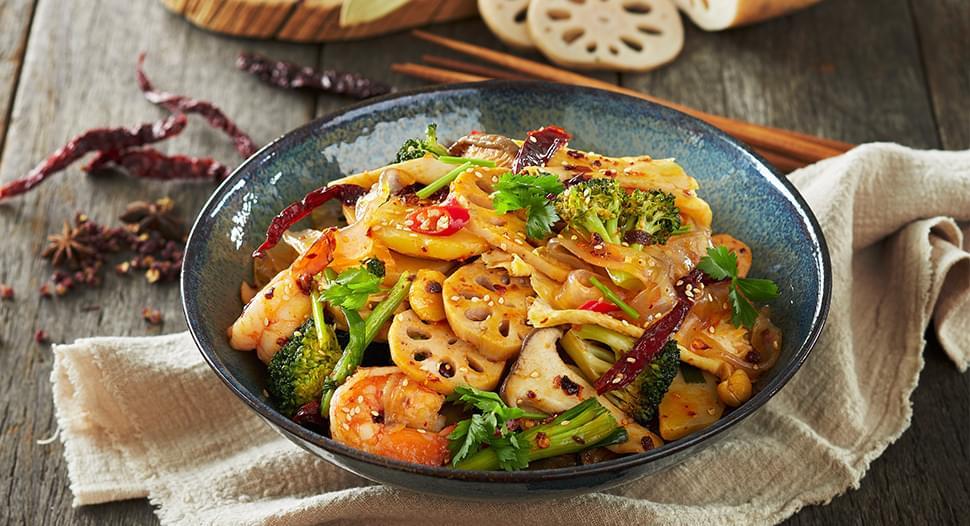 Seafood Mala Xiang Guo
Ingredients
Prawns, deveined and deshelled

8

Potato vermicelli

100 g

Oyster mushrooms, sliced

100 g

Lotus roots, sliced

200 g

Broccoli, cut small florets

150 g

Beancurd stick, soaked

25 g

Potato, sliced

1

Cashew nuts, fried

1⁄4 cup

Onion, sliced

1

Chinese parsley, cut into sections

30 g

Dried chili, soaked

10

Spring onion, cut into sections

20 g

Ginger, sliced

30 g

Minced garlic

1 tbsp

Grounded dried chili

2 tbsp

Cooking oil

2 tbsp

Coriander

for garnishing

Seasoning

Knorr Mala Liquid Seasoning

2 1⁄2 tbsp

Light soya sauce

1 tbsp

Sugar

1 tsp

Hua tiao wine

1 tbsp

Pepper
How to cook
Step 1
Blanch prawns in boiling water for 20 seconds, set aside.
Step 2
Separately blanch vermicelli, sliced potato and lotus roots in boiling water for 2-4 minutes, set aside.
Step 3
Heat 2 tbsp of oil in a wok, fry grounded dried chili till oil changed to red oil. Sauté ginger, garlic, onion and dried chilli till fragrant.
Step 4
Add spring onion, chinese parsley and cook for 1 minute.
Step 5
Over medium-high fire, cook broccoli for 2 minutes.
Step 6
Add lotus roots, potatoes, beancurd sticks, oyster mushrooms, green bean vermicelli, prawns and quickly combine well.
Step 7
Season with all the seasonings except for hua tiao wine, taste and adjust the seasonings to your preference.
Step 8
Lastly, quickly stir in cashew nuts and drizzle some hua tiao wine. Garnish with some coriander and serve hot.