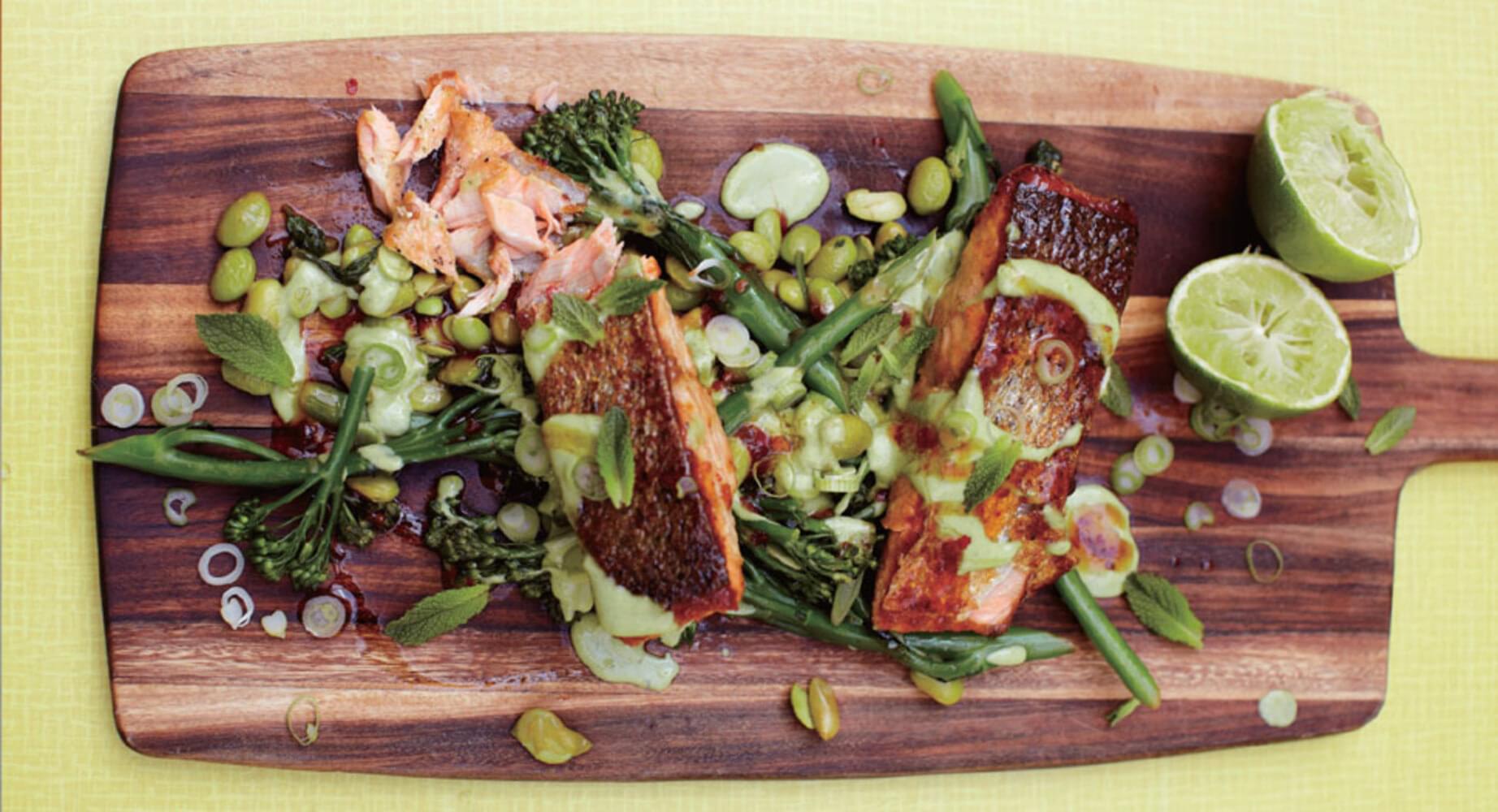 Sticky Salmon with Super Greens & Green Goddess Dressing
Ingredients
Salmon Fillets

skin-on, scaled and pin-boned

240 g

Tenderstem Broccoli

trimmed

200 g

Soya Beans

frozen

200 g

Baby Spinach

100 g

Spring Onions

sliced

4

Lime

juiced

1

Horseradish

jarred and grated

1 tbsp

Honey

1 tbsp

Sweet Chilli Sauce

to taste

Olive Oil

Salt

to taste

Black Pepper

to taste

Green Goddess Dressing

Avocado

ripe

1

Mint Leaves

1⁄2 bunch

Green Chilli

trimmed

1

Lime

juiced

1

Garlic

peeled

1 clove

Plain Yoghurt

natural, fat-free

3⁄8 cup
How to cook
Prepare the broccoli and soya beans
Blanch the broccoli with the soya beans for 2 minutes in a pan of boiling salted water over a high heat, then drain and set aside.
Prepare the green goddess dressing
Scoop the avocado flesh into a blender (discarding the stone and peel).
Pick the mint leaves, keeping any baby leaves for the garnish.
Add the mint, chilli, garlic, yoghurt, lime juice and a pinch of salt and pepper.
Blend until smooth, adding a splash of water to loosen the consistency until it can be spooned.
Start cooking
Season the salmon with salt and black pepper.
Heat a splash of oil in a frying pan over a high heat, then add in the salmon (skin-side down) and cook for 3-4 minutes or until almost cooked through.
Add the honey, horseradish and lime juice to the pan and mix well to form a sticky glaze.
Flip the salmon over to coat it in the sticky glaze, then transfer the coated salmon to a warm plate.
Add the broccoli, soya beans, spinach and a splash of water to the pan.
Let the spinach wilt and mix to coat everything in the sticky glaze.
Dish up the veggies, lay the salmon on top and garnish with the spring onions and reserved mint.
Serve with a good drizzle of sweet chilli sauce and the green goddess dressing.
Tried this recipe? Rate it!